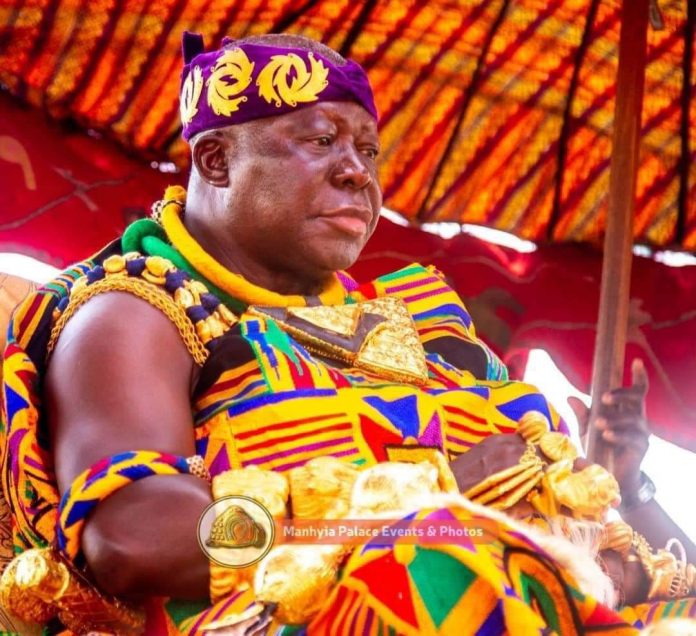 His Royal Majesty Otumfuo Osei Tutu II has underscored the need to solidify the Asante-Anlo alliance despite the divisions that have come between subjects of the Awɔmefia and Asantehene.
Speaking as the Special Guest of Honour at the 60th Anlo Hogbetsotso in the Volta Region Saturday, November 5, 2022, the Asantehene said the mere fact that their forebears established an alliance almost 200 years ago at a time where warfare was the order of the day is enough grounds to maintain the alliance.
Otumfuo noted it was not in his or his brother, the Awɔmefia Togbe Sri III's role to question the religious and political choices their people make.
"Of course, I'm not unmindful of the fact that the complexities of modern politics has cast an often uncomfortable shadow over our relations. It's an undeniable fact that our people have become associated with differences in political choices to an extent that have injected some warranted mistrust and compromised the brotherly harmony conceived by our forefathers.
"It will not be our role to question the political choices people make in our modern democracy. But I'm sure we can all agree that it is patently wrong to deduce from the differences in political choices or religious beliefs the existence of any inherent animosity between our people.
"And it is patently wrong to allow such differences to erode confidence in our heritage and generate enmity and strifes between our kids and kins. Our forefathers knew who they were and what they were doing when they formed the concrete alliance between Ashanti and Anlo during an era dominated by an intense warfare," the Asantehene charged.
Otumfuo Osei Tutu II was confirming an alliance between their forefathers which the Awɔmefia, Togbe Sri III had already mentioned
By Felix Anim-Appau|Onuaonline.com