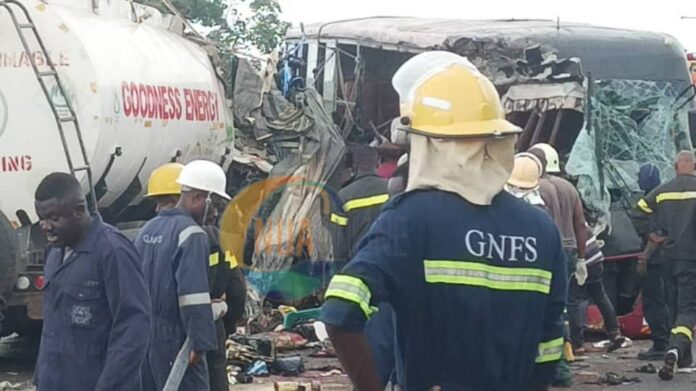 15 people have reportedly died at Okyereko junction in the Gomoa East district of the Central region after an Abidjan-bound Yutong bus collided with a fuel tanker leaving 25 passengers with severe injuries.
The accident involves a fuel tanker with registration number WR 2063-10 and a Yutong bus with registration number GR 5866-L.
Eyewitness tells Onua News's Nana Yaw Asare on Maakye Tuesday, May 30, 2023 that the driver of the fuel tanker which was heading from Accra to Cape Coast was dozing and veered off its lane, colliding with the Yutong bus which moving towards Accra.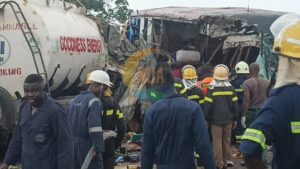 An officer from the Ghana National Fire Service said 15 people have been confirmed dead as rescue operation is still ongoing as at the time this report was being filed.
The officer says they met passengers with some having their heads chopped off with others' limbs dismembered.
He said 25 of the passengers with severe injuries have been sent to the Winneba Trauma Centre for treatment.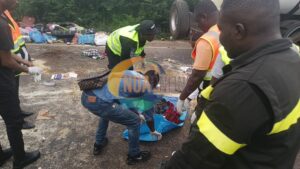 An eyewitness who also spoke on Maakye said their vehicle followed the Yutong bus from Winneba junction towards Okyereko when they heard a clash.
"We followed it from Winneba junction. When we heard the sound, we rushed here and saw the victims here. I called the Trauma Hospital Emergency Unit. I am a nurse there. We are rushing to the place to see how we can help save the others.
READ ALSO: C/R: 3 confirmed dead, scores sustain several degrees of injuries in two separate accidents