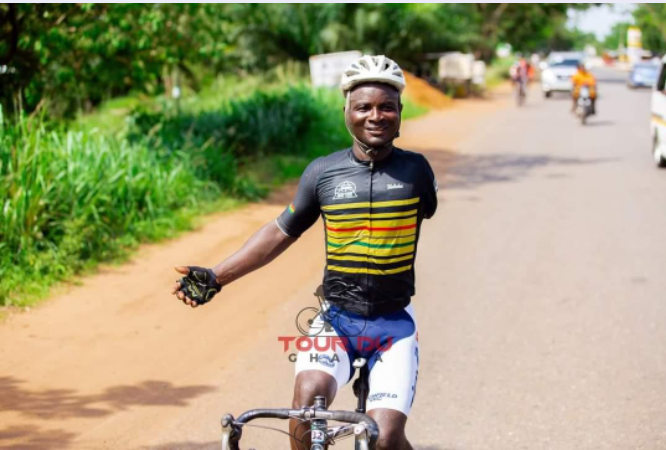 Amputee Cyclist Richard Atta Yaw rode 289 km from Accra to Ho and back with one hand to win the Endurance Award at 3FM Tour du Ghana 2022.
He disclosed to Helen Appiah Ampofo on the Star Zone segment of 3FM Sunrise Morning show on Thursday 5 May, 2022 that he became a victim of discrimination after he had an accident and lost his left hand in 2001.
Atta Yaw recounted that bus conductors and drivers looked down upon him and refused to pick him at bus stops because they thought he could not pay the fare. This motivated him to buy a bicycle for his personal transportation and eventually ended up as a professional cyclist.
"The trotro mates and drivers often refused to pick me up when I tried to board their vehicles. One day I was on my way to Korle-Bu Hospital for a medical review but the trotro mate did not allow me board the vehicle though the car was not full up. I think they thought that because one of my hands was amputated, I wanted to be given a free ride. I felt so sad that a whole driver like me was treated that way because I had lost one hand. This experience motivated me to save some money to buy a bicycle for my errands" he revealed.
Prior to the unfortunate accident, Richard worked as an auto electrician and a driver.
"As I was riding my bike to and fro the hospital for medical reviews, I gained confidence and developed much interest in cycling. Even the doctor who amputated my hand has also bought a bicycle and enjoying cycling now"
He disclosed that he aspires to compete in international competitions and win laurels for Ghana. He also appeals to the government to invest in cycling.
Richard Yaw Atta won the Endurance Award at the 3FM Tour du Ghana 2022 edition. Over One Hundred and Twenty cyclists made up of professionals and amateurs, individuals and groups started the 289 km journey to become Ghana's fastest cyclist in this year's 3FM Tour du Ghana with the oldest athlete aged 72 years and the youngest at 23 years. Cyclists from France, Togo, and Nigeria also participated in the event.
The 2022 edition of 3FM Tour du Ghana was a two day event in search of the fastest cyclist in Ghana. It started from April 30, 2022 from the Central University Miotso to Ho where the cyclists were welcomed to a rousing wezor night full of cultural activities, Bon Fire, Boboorbor, Barbecue, artist performances and more. Next on the 1st of May 2022, the race resumed from Ho to the finishing point at Valley View University, Oyibi for the crowning of the winner of this year's Tour du Ghana.
Anthony Boakye emerged as winner of the second edition of 3FM Tour du Ghana cycling competition with an accumulated time of 8 hours 2 minutes 15 seconds and gained a total points of 70 with his closest competitor scoring 69 points. Lawrence Adjei, Jacob Akwwei, Prince Kudufia, Henry Odumu, Maxwell Doku, Prosper Agbo, Joseph Neequaye, Victor Kudjo, and Michael Agbugblah were in the top ten; named from 2nd to 10th respectively.
By Samuel Afriyie Owusu|3news.com|Ghana