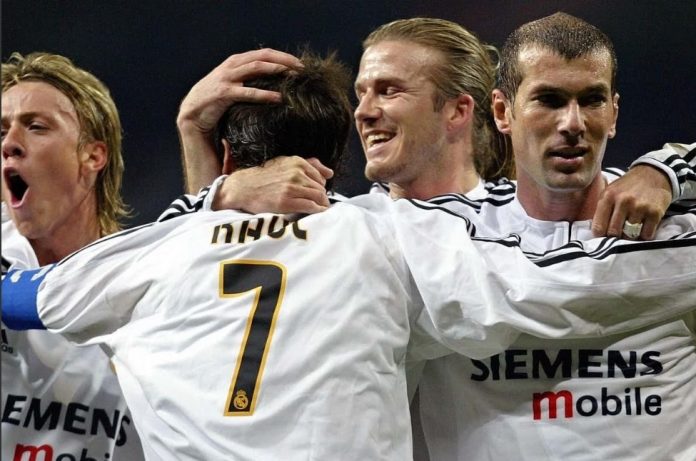 The Galacticos Era will always remain special in the heart of every Real Madrid fan. Yes, the club surprisingly did not win a lot during that period of time, despite having some of the biggest names in the history of the game assembled in the same squad.
But it did go a long way in establishing Los Blancos as the biggest club in a fast changing world and laid the foundation for future success.
Zinedine Zidane, Ronaldo Nazario, Luis Figo, David Beckham, Roberto Carlos, Iker Casillas, Raul, and many others. It was truly a team filled with absolute megastars.
READ ALSO: EPL club to make Real Madrid icon Zinedine Zidane the highest-paid coach in world football if he signs for them
Of course, many fans have often wondered why the era did not come with more success on the pitch. Real Madrid just never got the team's balance right during those years.
Who were the best out of the Galacticos though? Former Real Madrid assistant manager, Jose Peseiro, has given his answer to that question.
Peseiro did not have a remarkable coaching career before arriving at Real Madrid as the assistant manager to Carlos Queiroz, during the peak of the Galacticos Era and spent a year at Santiago Bernabeu.
As reported by the Mirror, he said:
"It's not easy, but I can say from training, the players (who were the best) were Ronaldo, Zidane and Figo.
"Picking one is difficult, to choose the best three is also difficult, but I can say those three were incredible.
"Overall, Ronaldo, Zidane and Figo showed the best, but then Roberto Carlos was amazing in the shooting drills and running. Raul, the striker, his quality was amazing. Casillas would make unbelievable saves. Beckham, Guti, could do amazing things. There were five, six, seven, eight, nine players at an amazing level.
"But if I need to pick three, Zidane, Figo and Ronaldo, in any order. They were special players to work with."
So, Peseiro has picked Zidane, Figo and Ronaldo as the three best players he worked with at Real Madrid.
That is a solid list of three as well. Of course, we all know what Zidane was capable of. He could very well be amongst the top ten players of all-time.
On the other hand, if not for his injuries, Ronaldo could very well have been on that list as well, if he is not already.
Figo's brilliance is often forgotten, having played with such megastars, but he was an absolutely brilliant player as well and the fact that he joined the club from Barcelona made it even sweeter for Real Madrid fans.
Sources: TheRealChamps