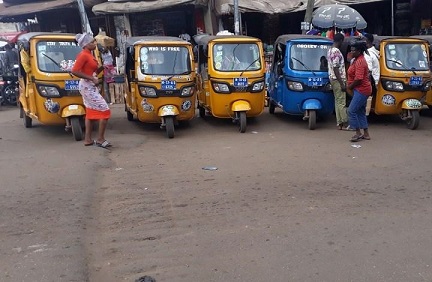 The Greater Accra Regional Co-ordinating Council (GARCC) has asked some Municipal and District Chief Executives and their Presiding Members to pass bye-laws to regulate the activities and operations of tricycles popularly called "Pragyia" and "Aboboyaa" within the Central Business District (CBD) as well as some principal streets in Accra.
The GARCC says the activities of these operators are hampering the flow of traffic which is affecting productivity.
"This situation has resulted in heavy traffic congestion and chaotic scenes with indiscriminate packing and flouting of traffic regulations among others. The Council therefore, deems it very imperative and urgent to regulate the movement of these "Pragyias" and "Aboboyaas" and create a conducive environment for businesses to thrive and for the comfort of travelers," a statement issued Tuesday, August 15, 2023, said parts.
READ ALSO: Kasoa: Appeals Court rules township is now part of Greater Accra, no more in Central region
The GARCC has further charged leadership of the affected areas to sensitise the residents to comply with the new directive.
According to the Monday, August 14 meeting which brought the resolution, the GARCC has also placed "a ban on the use of party paraphernalia during festivals in the region (no hoisting of flags, no wearing of party attires among others)"
According to the release, the affected areas are; the Central Business Districts (CBD) of Accra Metropolitan, Krowor, Korle Klottey, Tema Metropolitan, La Dade Kotopon, La Nkwantanang Madina, Ayawaso East, Ayawaso West, Ayawaso Central, Ayawaso North, Ledzokuku, Okaikwei North and Adentan Municipal.
READ ALSO: Arise Ghana Demo: High Court partially grants police request, alters time, route