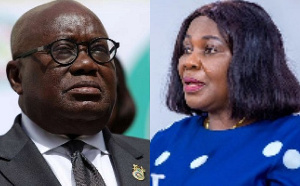 The Center for Ethical Governance and Administration (CEGA) has asked President Akufo-Addo to freeze the assets of the former Minister of Sanitation and Water Resources.
The group says the amount of money stored in Cecilia Dapaah's bedroom in this difficult economic times requires action to ascertain genuineness or otherwise of it.
Just as many other individuals and groups, CEGA wants the Office of the Special Prosecutor to be engaged in unraveling how she came by those amounts of money.
READ ALSO: Akufo-Addo has surrounded himself with 'bootlickers, sycophants who sing him halleluyahs even when he is naked' – Ivan Kyei
"CEGA respectfully requests the President Nana Akufo-Addo to cause the immediate freeze of assets of the former Minister for Sanitation and Water Resources Cecilia Abena Dapaah and for the Office of the Special Prosecutor (OSP) to as a matter of urgency initiate investigations to unravel the source of the said monies stashed in her bedroom as reported in the media.
"This is happening at a time when the economy is in distress with millions of Ghanaians wallowing in poverty because of mismanagement of the economy by the President Akufo-Addo government," a statement issued by the group Sunday, July 23, 2023, indicated.
It continued that, whilst "Ghana is reeling over GH₵600 billion debts and regarded as a high risk debtor nation under severe stress by the International Monetary Fund's (IMF) stringent conditionality to bring fiscal discipline to the economy", one person cannot keep such ransom in her bedroom as spelt out in a charge sheet issued by an Accra Circuit Court.
According to the charge sheet, various sums of money –1 million US Dollars, 300,000 Euros and countless millions of Ghana Cedis in addition to other valuable personal effects –have allegedly been stolen from the bedroom of the former minister by two house helps.
But to CEGA, ignoring such a scandal without adequate probe will not auger well for the state especially in these perilous times.
"Under situations like this, it will be unethical for government to sweep this strange occurrence under the carpet more so when the former minister has come out with a statement to flatly deny aspects of the written statement made to the police, which formed the bases for the prosecution of the two house girls and three accomplices," portions of the statement added.
READ ALSO: MP reveals why they mounted calls for Ofori-Atta's dismissal, resignation