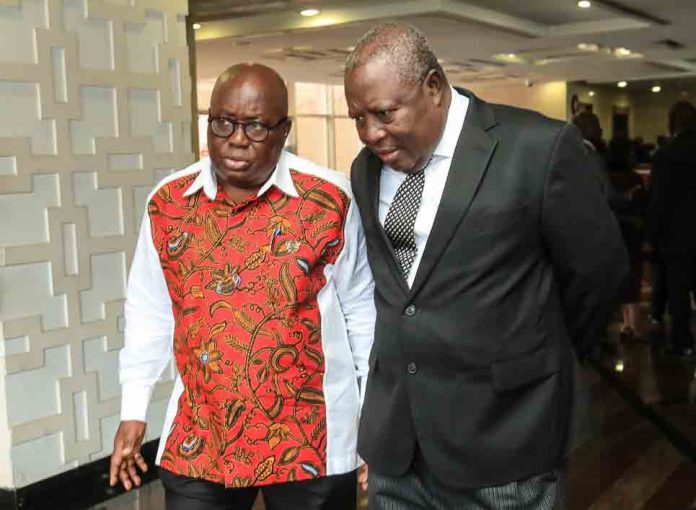 <![CDATA[
President Nana Addo Dankwa Akufo-Addo says he does not have any regret in the appointment he made in 2018 of NDC stalwart Martin Alamisi Burnes Kaiser Amidu.
The president appointed Mr Amidu, a staunch member of the opposition National Democratic Congress (NDC), to be the first occupant of the Office of Special Prosecutor (OSP).
However, after a little over two years in office, Mr Amidu resigned his position in a fashion characteristic of him.
He posted a public missive to announce his resignation on Monday, November 16, 2020, just four days after his mentor, Jerry John Rawlings kicked the bucket, an event he said became the last straw that broke the camel's back for him.
He had generally cited interference on the part of the president but specifically cited the move he took to probe the Finance Minister, Ken Ofori-Atta, the president's cousin, after having undertaken a corruption risk assessment on the Agyapa deal.
But after all the events surrounding the departure of Mr Amidu, popularly known as Citizen Vigilante, President Akufo-Addo says he does not regret appointing him to head the newly created office.
"My party, the New Patriotic Party, when I came to office in 2017, made a commitment and indeed the overwhelming mandate from the Ghanaian people to fashion an additional instrument to fight the canker of corruption that had taken firm root in every aspect of national life and was visibly gnawing at the heart of the Ghanaian state.
"The genuineness of that commitment to create an independent non-partisan body with the relevant professional capability to lead the fight and hold public officials, past and present, accountable for their stewardship of public finances was made manifest in the appointment of a very senior figure from the opposite side of the political divide to establish and help this very significant office. The person, as you will recall, was met with stiff oppostion by some members from both side of the aisle.
"In spite of the unfortunate event that led to the departure for the first occupant of the office, I do not regret making that appointment.
"On my part as president of the Republic, I ensured that the office was adequately resourced to enable it carry out its mandate."
By Emmanuel Kwame Amoh|3news.com|Ghana