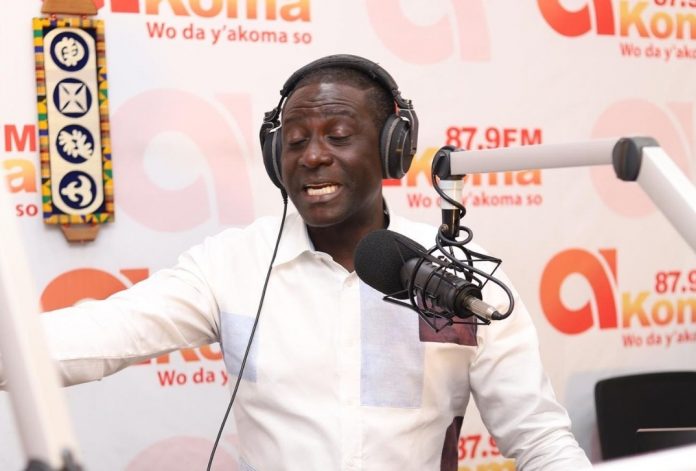 Until Ghana ends illegal mining otherwise known as galamsey thoroughly, its bailout from the Breton Wood's Institute would be a fiasco, host of Onua TV/FM's morning show, Maakye, Blessed Godsbrain Smart, has asserted.
He says aside from the galamsey menace the government has to tackle, the International Monetary Fund wants all of Ghana's debt to be added in its restructuring before the sum would be released.
The broadcaster speaking Friday, October 14, 2022 put his job on the line that a dime from the IMF to Ghana by close of month November would let him resign.
"If the IMF gives Ghana even one dollar by 30th November, I'll stop this work. Mark my words. I'll plead with Auntie Bea (Group CEO of Media General) that I want to leave and resign. Even December the money wouldn't come.
"The embassies have done a research on Ghana and until we fight galamsey, the money wouldn't come. The world bank says you should add all the debts and come back," he threatened.
The Finance Minister Ken Ofori-Atta has revealed that the team from the Ministry of Finance that is curenly in the United States will be staying beyond the period for the World Bank/International Monetary Fund meetings with African Finance Ministers, to enable them conclude discussions and negotiations with the IMF Mission that is working on the progarmme Ghana is seeking.
Mr Ofori-Atta indicated that is to give the team enough time to be able to come to some fair decisions on the outlook.
Speaking in an exclusive interview with TV3's Sani Abdul-Rahman, on the sidelines of the meeting with African Finance Minsters with the G7 as part of the ongoing World Bank/IMF Meetings in Washington D.C. Mr Ofori-Atta said "We still are working through and as you know we are staying beyond the Fund, the World Bank meetings through, maybe, the 20th, so we will continue with the Mission and the work. We pray that that may give us enough time to be able to come to some fair decisions on the outlook.
"I can tell you that the Fund staff is very motivated , which is good and we are 24/7, so the combination of their own enthusiasm, our clarity on the work that has been done to fulfill the President's promise. If you look at the turn out of discussion for this annual meeting clearly, the world is recognizing that something different has to be done."
By Felix Anim-Appau|Onuaonline.com