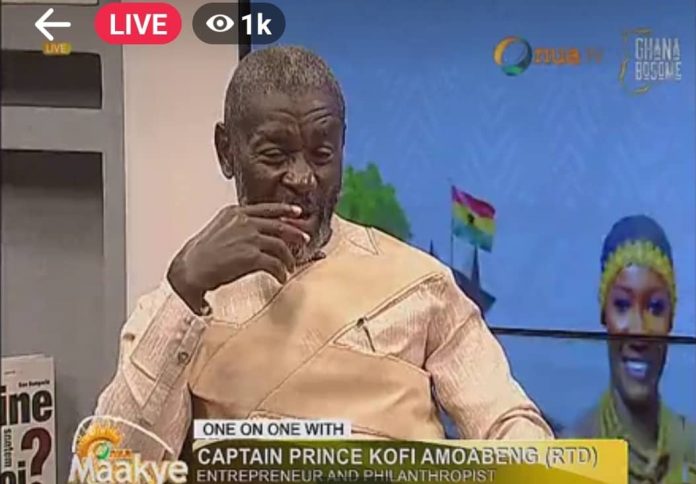 Captain Prince Kofi Amoabeng (Rtd), an entrepreneur and philanthropist has disclosed that although he is comfortable with himself and the life he is living, he won't classify himself as a rich man.
According to him, the nosedive his philanthropy took following the collapse of his bank has restricted him on certain things he used to do.
Juxtaposing his previous life with his benevolence capabilities now, Mr. Amoabeng told Captain Smart on Maakye Wednesday, March 1, 2023, on Onua TV/FM that: "I'm no more rich. But I'm rich in health, good mind, good values, I love people and I try to help people."
READ ALSO: Pastor urges churches to invest offerings in agriculture instead of banks
The Chief Executive Officer of defunct UT Bank noted his inability to help people as he used to then, is his biggest problem currently.
"I can't help people now and that's my biggest headache now. I'm doing so little now. But I'm happy because I'm teaching people," he stated.
He disclosed further that "I've sold my big house and honestly I didn't need that big house so when things [went that bad] I sold it and rented an apartment and people started talking."
Many of his friends, he indicated, have deserted him when things turned sour, leaving a few honest ones who still come around him.
"…The good friends are still there. They have reduced and I knew they (those who have left) not real but I still smile with them. I give people a long rope and when I cut it, you won't even realise," he shared.
Captain Kofi Amoabeng's UT Bank collapsed in August 2017 as one of two banks [and Heritage Bank] whose closure would herald a financial sector clean up exercise that saw the licences of nine banks and more than 370 financial institutions revoked.
The exercise cost the state in excess of GH¢21 billion and threw thousands of employees and hundreds of thousands of their dependents into disarray.
It is however, factual, that GH¢9 billion could have saved the banks and other financial institutions.
By Felix Anim-Appau|Onuaonline.com