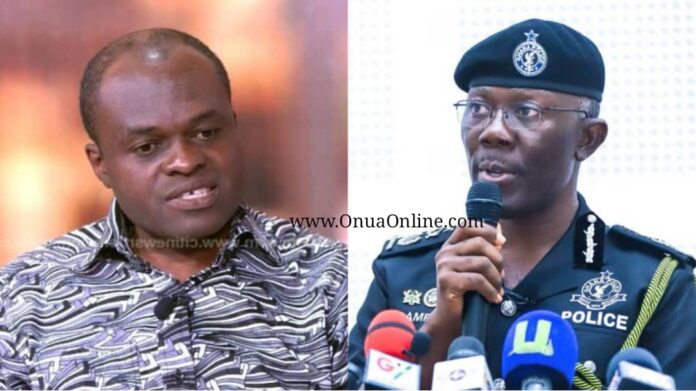 The arrest of about 50 persons by the police last Thursday, September 21, 2023, for their involvement in the #OccupyTheJubileeHouse demo has tarnished Ghana's democracy according to Martin Luther Kpebu.
The private legal practitioner said on the KeyPoints Saturday, September 21, 2023, that the IGP's matter before the parliamentary ad-hoc committee might have affected him to act in a manner detrimental to Ghana's democracy.
The police arrested 49 people Thursday, September 21, 2023, during a disrupted protest towards the Jubilee House.
The protesters were rounded up by the Police at the 37 bus terminal, where they had assembled for the planned protest Thursday morning.
The police cited that an application to halt the demonstration had been submitted and served to Atuguba & Associates, the legal team representing the organisers from Democracy Hub, as early as Tuesday, September 19.
However, the organisers claimed they had no knowledge of the application and chose to proceed with their march.
Meanwhile, one of the organisers, Oliver Barker Vormawor, disclosed on Friday that almost all of the protesters arrested on Thursday have been released.
He, however, mentioned that the group was yet to locate one of their members who had still not been accounted for. According to him, they were unable to reach him because all their phones were seized by the Police.
Commenting on the development on The KeyPoints on TV3 Saturday, September 23, 2023, Mr. Kpebu said the IGP who is the leader of the Police Service must render an unqualified apology to Ghanaians for the dastardly act perpetrated towards the citizens yesterday.
"The police just goofed. They just goofed and they retrogressed our democracy. I don't know why they were in a so much hurry. I don't know why IG[P] Dampare, because of the parliamentary committee thing is shaking his confidence.
"You should come and render an apology to the people of Ghana that I've made a mistake and it's normal. You're a fine man, just that you're human, you make mistakes. When you did a yeoman's job in Assin North yes I praised you for it but as soon as Maame Tiwaa's faction, COP Mensah's faction and the other problems we've had came up, you see I said no, let's go into it because it will help you.
"You mean well but naturally you're human, so the way you retrogressed our democracy on Thursday, the minimum you can do is to come and render an unqualified apology. You've given a big bloat to our democracy," he pronounced.
READ ALSO: Akufo-Addo; Commander-In-Chief of demonstrations detached from the realities on the ground – Prof. Opoku Antwi