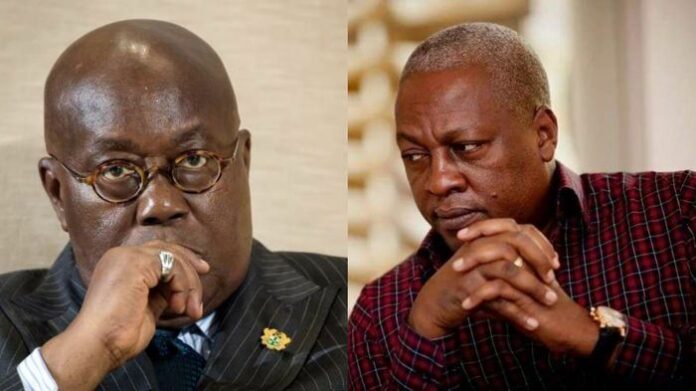 President Addo Dankwa Akufo-Addo has beseeched Ghanaians to reject John Dramani Mahama's comeback as he has not changed as being preached.
The President says the Mahama of yesterday is the today, tomorrow and forever.
President Akufo-Addo at Bantama, a suburb of Kumasi over week at the commissioning of a Library in the constituency shredded the former President and flag bearer of the opposition National Democratic Congress (NDC) saying his quest to come back to the presidency is a deceit to Ghanaians.
He has charged the populace to ignore Mahama because he has nothing better to offer.
He explained that the opportunity the former President seeks was given to him earlier by Ghanaians but he squandered it with his poor leadership, the reason Ghana is where it is today.
"The one who couldn't do it has now come again saying he is a changed man so we should give him another opportunity. We gave you the opportunity, but you messed up; now you come to tell us that you are a changed person," he told the gathering.
"You've not changed, it's a deceit. You only want to deceive us but won't allow that. We will only vote for people who have been tested and proven," he added.
Meanwhile, John Mahama in the course of the week during his "Building Ghana Tour' in the Bono region said the lies the NPP told the citizenry to come to power in 2016 will not work for them this time around.
He bemoaned the lavished lifestyle being put up by his appointees, cautioning members of the NDC to avoid such deeds should the NDC come to power again.
"This time the lies won't work. This time the propaganda won't work. This time the deception won't work. This time the dishonesty won't work.
"The people elected you to serve them not to lord it over them. And so one of the things we don't want to see in the best NDC government, we don't want to see arrogance. The people are suffering and so you must be moderate.
"We don't want to see people driving Rolls Royces and things when people cannot get food," he cautioned.
READ ALSO: Mahama jabs Akufo-Addo for collapsing poultry industry