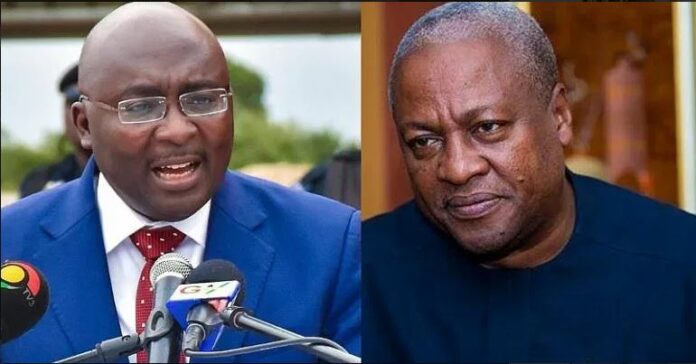 Vice President Dr. Mahamudu Bawumia who will be leading the ruling New Patriotic Party (NPP) in the 2024 general elections has said his brother, John Dramani Mahama of the NDC lacks ideas. 
The Vice President, who was responding to a call by the overlord of Dagbon, Ya-Na Abukari II, not to resort to campaign of insults since his main opponent is his brother from the north said he will be laying down his achievements rather than launching attacks in the campaign.
The Ya-Na had said leaders of the two main political parties are both from the north and urged them to see themselves as brothers rather than enemies.
He expressed gratitude to Ghanaians for giving those two higher positions to sons of the north, giving them the hope that the next president of the land will be coming from upper Ghana.
"John Mahama is your big brother and not your enemy. See him as an elder brother as you go about your campaign.
"We just have to be grateful to all Ghanaians for trusting that only a northerner can lead Ghana after 2024. It is a big opportunity for us to demonstrate our maturity, competence, honesty and dedication to move Ghana forward," he was grateful.
Dr. Bawumia, after assuring the overlord of running a clean campaign based on achievements said his brother criticises his initiatives because he lacks same.
"Ya-Na, I wish to assure you that my team and I will conduct a clean campaign as you have indicated because myself and John Mahama are all your sons. What I will be doing is that I will bring to bare my ideas that I know will compliment the development we are currently seeing.
"My brother lacks ideas and so tends to criticize my ideas but I know Ghanaians are decerning and will vote the NPP that I lead," he noted.
Dr Bawumia used the occasion to thank delegates and the Ya-Na for their support which led to his overwhelming victory in the November 4 presidential primary.
"I am grateful to you Ya-Na and the entire Dagbon for the support but the real battle lies ahead and I will need your support again.
"We have a battle ahead and Insha Allah with your support we shall overcome," he was confident.
The Vice President is on a 'Thank You' tour since his election on November 4 as the flag bearer of the NPP.
His first point of call was his home region on Monday November 20, where he addressed a mammoth crowd.
He later held a rally in Tamale which many described as electrifying. The 2024 NPP flag bearer also visited Yendi, Bimbilla and Saboba all in the Northern region.
He is expected to pay a courtesy call on the king of the Gonja Kingdom Yagbonwura Bi-Kunuto Soale Jewu at the Jakpa Palace in Damongo and also hold a rally.
READ ALSO: Mahama is your big brother not your enemy – Ya-Na counsels Bawumia