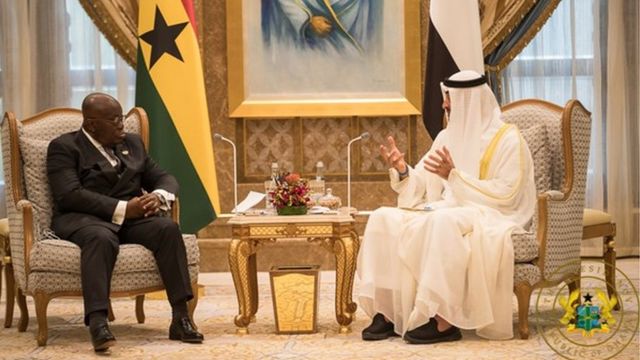 The United Arab Emirates (UAE) Ambassador to Ghana, Amer Al-alwi has refuted reports that his country has banned Ghanaian citizens entry.
On Monday October 24, 2022, a DW Africa report indicated the UAE has banned 20 African nations entry including Ghana.
The affected countries according to the report by the German-based media outlet are Ghana, Sierra Leone, Sudan, Cameroon, Nigeria, Liberia, Burundi, Republic of Guinea, Gambia, Togo, Democratic Republic of Congo, Senegal, Benin, Ivory Coast, Congo, Rwanda, Burkina Faso, Guinea Bissau, Comoros and Uganda.
Meanwhile, addressing the media on the sidelines of the planting of 50 ghaf trees to mark the 50th anniversary of bilateral relations between Ghana and the UAE, the Ambassador, Al-alwi noted nothing has been officially communicated to his outfit.
"There is nothing official related or regarding those rumours over the news. There is no official statement from my government or the other governments. So nothing has changed.
"Until we find or receive any announcement or official statement, we can talk about it. We have adjusted that the new visa system which is more flexible with the wellness which makes Dubai or the UAE easy to reach," he indicated.
He explained the significance of the tree to the people of the UAE.
"This tree is not just a simple tree. The reason of the survival of the UAE or the people in our religion. So that's why for us it's the resilience, it's the prosperity, it's tolerance," he enlightened.
By Felix Anim-Appau|Onuaonline.com