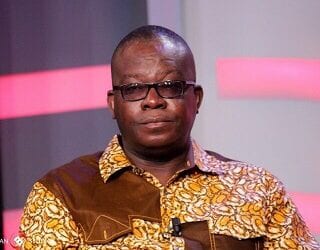 President of the National Association of Graduate Teachers (NAGRAT), Angel Carbonu has described teachers in other coalitions kicking against the three teacher unions strike as "nonentities" who speak "nonsense".
Three teacher unions, NAGRAT, the Ghana National Association of Teachers (GNAT) and the Coalition of Concerned Teachers (CCT) have declared a strike action in protest of the appointment of the new Director General for the Ghana Education Service (GES).
But some other teacher unions and coalitions in the profession says Dr. Nkansah's appointment is legit and will help solve the long standing issues affecting the union. Three of such appeared on Onua TV/FM's morning show, Maakye, on Monday, November 7, 2022.
Mr. Carbonu, reacting to concerns raised by three teachers empanelled on the show with Captain Smart said the teacher unions strike in protest against the appointment of the New Director General of the GES is unwarranted.
According to them, the erstwhile Director General, Prof. Kwasi Opoku Amankwaah presided over several challenges of teachers without finding solutions to them.
However, they say Dr. Nkansah has the requisite administrative capacity to help resolve many of the problems they are encountering, with his few days in office in perspective, aside certain initiatives he proffered as then Technical Advisor/Director in charge of tertiary education at the GES, the reason they support his appointment.
But Prof. Amankwah they indicated, turned a deaf ear to many of their issues and gave a cheeky reponses to some of their challenges.
"When we went to Prof. Amankwah and told him that we have been teaching for 7 months without salary, he asked us 'were you not eating before we employed you?' You can go and do galamsey," Rebecca Bawa, a newly posted teacher told Captain Smart.
Also, the teachers said deductions were made from their salaries to secure laptops for them to teach but have not received them after over a year.
They cited the non availability of textbooks for some years after changing the syllabus as part of the reasons the Unions should have called for a strike not the appointment of Dr. Nkansah.
Meanwhile, they have also suspected some foul deal the union leaders might have brokered with the outgone Director which the new boss will unearth as part of the reasons the they are sabotaging the Director General's appointment.
Angel Cabonu, after listening to all the concerns the panel raised and making his input agreed on air to go to Onua TV studios to clarify issues on Tuesday, telling Captain Smart "you've brought these nonentities to come and talk nonsense".
By Felix Anim-Appau|Onuaonline.com