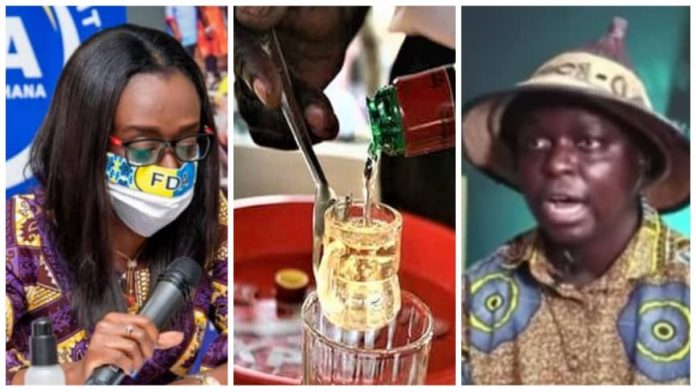 The Food and Drugs and the Ghana Standards Authorities have been asked to up their games in ensuring that alcoholic beverages approved on the market are up to standard. 
The influx of unapproved and quality-deficient products on the market according to the Ghana Drunkards Association poses a threat to the health of consumers, a situation the two associations should not take lightly.
The Ghana Standards Authority (GSA) and the Food and Drugs Authority (FDA) have therefore been tasked to ensure all alcoholic beverages on the market undergo vigorous tests to avoid causing damages to consumers.
READ ALSO: Drunkards Association cautions members to be moderate in alcohol consumption as rainy season commences
"We will also like to draw the attention of the food and drugs authority on the influx of low quality and unregistered alcoholic products in the market that poses health risk to the consumers.
"We are therefore calling on the Authorities to including Ghana Standard Authority to scrutinize some of these alcoholic beverages well before granting them the permit to market their products," a statement issued by the Ghana Drunkards Association Friday, March 24, 2023, contained.
The drunkards association are "…also calling on the beverage companies to include some members of the Drunkards Association in their adverts to enable viewers access the true effect of their products on consumers."
Meanwhile, they have cautioned their members to desist from alcohol abuse during the rainy season to stay healthy.
"Following the recent rains across the country, Executives of the association will like to caution it members and the general public to be responsible and not take advantage of the rains to abuse alcohol.
READ ALSO: Arrest the big men smuggling wee and leave us alone – Don Little
"In as march as we do not condemn drinking, we will as well use this medium to caution members not to drink excessively to keep them healthy," Moses Onyah, President of the Association said in a statement.
By Felix Anim-Appau|Onuaonline.com|Ghana