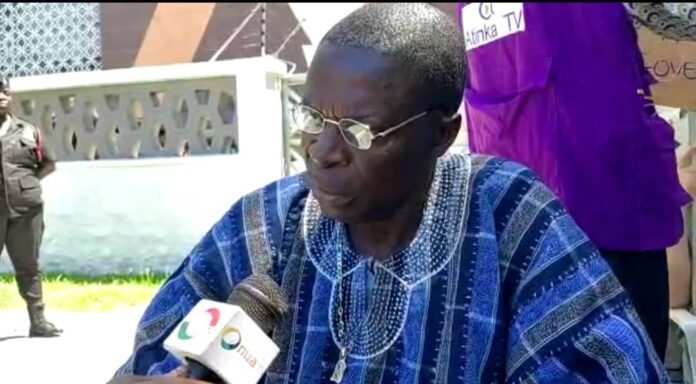 A member of the Pensioners Bondholder Forum has likened deeds of the New Patriotic Party (NPP) government to armed robbery.
The retired police officer says the government's refusal to honour their matured coupons is akin to armed robbers who attack individuals to take their monies.
Speaking with Akua Sarpomaa at the Finance Ministry Monday, May 8, 2023, the bondholder said government's refusal to pay their monies to them is a big blow to them since their meagre monthly allowances are nothing to write home about.
He said they are counting on the government to adhere to their calls to get their money to settle their medical bills and other needs.
"There is no difference between people with arms and attack individuals to take their money away. There is no difference between [them and] what the government is doing.
READ ALSO: Why force pensioners at gunpoint to agree with you? – Ungagged Sophia Akuffo quizzes gov't
READ ALSO: Individual bondholders occupy Finance Ministry from Monday, February 20
"At the end of the month I take my monthly pension. That's what I depend on but it's not adequate. So I invested that money so that at the end of the maturity period I'll use it for all projects I've earmarked for.
"In addition I'll use it for medical treatment. Some of us you're seeing us like this you think we're healthy, we're not all that healthy. Every month or every three months you'll go to the hospital for checkup and they'll ask you to do certain medical lab tests. And all these involve money. So when the need arises, we lay hands on these savings," he explained.
The pensioner bondholders besieged the Finance Ministry February this year to demand exemption from the government's Domestic Debt Exchange Programme.
After seven days stay at the premises, the Finance minister, Ken Ofori-Atta, assured them they have been relieved from the programme.
However, their matured coupons have not been paid by the government despite being told of exemption from the programme.
The development compelled them to return to the ministry to demand payment from the government.
Until government pays them their money, Convenor of the group, Dr. Adu Anane Antwi says they will never leave the premises.
READ ALSO: You're getting the skin of our skull removed after promising us no haircut – CPA to Ofori-Atta
Government introduced the Domestic Debt Exchange Programme as part of its debt restructuring to meet the International Monetary Fund's requirement for a $3million bailout.