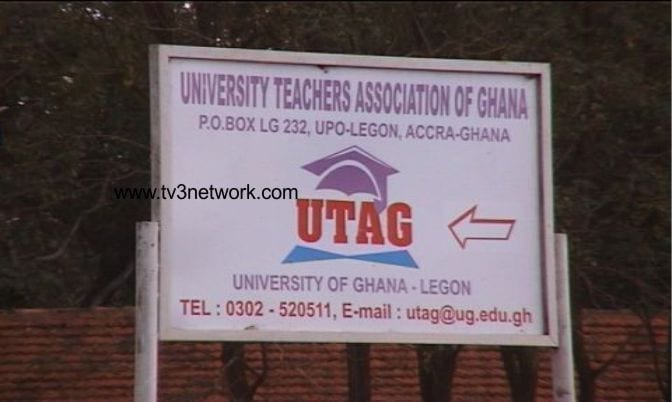 <![CDATA[
Executive Secretary of the National Labour Commission (NLC) Ofosu Asamoah, has pointed out that his outfit is seeking a contempt of court charges against the University Teachers' Association of Ghana (UTAG) for disobeying the order to call off their strike when negotiating with the government to address their grievances.
He said the University Teachers Association of Ghana(UTAG) should be held for contempt for disobeying the orders of the court to end their strike to go back to the classroom because they are in negotiation with their employer with the National Labour Commission as their mediator.
Mr Asamoah said the NLC will go back to court to cite UTAG for contempt for not respecting the court's decision on the matter.
He said the NLC is receiving conflicting reports from UTAG members, some of them saying they are going to consult their lawyers on the matter and in some cases they say they are going to consult their members on the matter as well.
Mr Asamoah thus added that the NLC has been monitoring the situation in the media concerning the response from UTAG and that if it is established that they are defying the orders of the court by the end of today, they will go back to the court to inform the court that its orders have been defied.
He stated that this is not the first time that a union will be cited for contempt, although the first one purged themselves by rendering public apology to the court and then refraining from their strike action.
Mr Asamoah also cited the example of the College of Education teachers when they embarked on an illegal strike that resulted in the forfeiture of their salaries in the process.
He said this in an interview with TV3's Daniel Opoku on Monday, August 9, while reacting on the back of the ongoing strike action by the University Teachers Association of Ghana(UTAG) that infringes the Labour dispute law in the country, as ordered by the court.
"Defying the court directive is a disrespect to the court so they will be held in contempt. We will go back to court and cite them for contempt for disobeying the court's directive and the court will take a decision on them", he pointed out.
He added "if the UTAG goes on, yes in the case of the court, the court will punish them and on the part of their employers, their employment will be terminated without notice. They could be made to lose their salaries or allowances over the period in which they engage in the illegal strike and the leadership of the union will be responsible for any loss or damages arising from the illegal strike".
He admonished UTAG to call off the strike as directed by the National Labour Commission and affirmed by the court, by appearing before the commission on Wednesday, August 11.