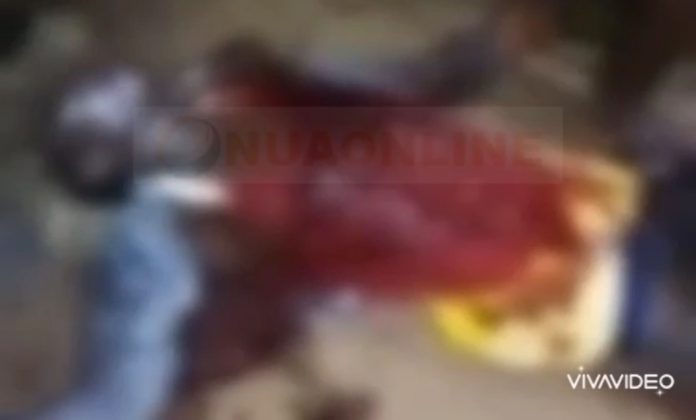 35-year-old Kwame Ofori a.k.a Kolinko has been stabbed to death by his colleague at Akyem Achiase in the Eastern Region.
According to eye witness, the two had an argument over 'who is kingpin' in the area which resulted in a fight making one stab the other.
The culprit, notoriously known as Tomproo is currently at large.
Speaking on Onua TV/FM's morning show, "Maakye" on Monday, May 30, 2022, the eye witness explained that on the night of Sunday, May 29, 2022, they heard a sound of an ailing voice calling for help. Upon reaching the scene, they found Kolinko in a pool of blood with his intestines out, scaring them all away.
"We had all gone to smoke ['wee'] and Tomproo came and asked 'who thinks he is the kingpin here?' Then the deceased, Kolinko, told him to stop his stupidity because he can't bring it here. So Tomproo asked if he can face him and he said yes. This was about 10:30 pm. They were fighting. There was heated argument. Kolinko beat Tomproo so he told him to wait for him. He went home and returned with a knife. He first stabbed his chest, then the stomach, his side and finally the nostrils. His intestines came out. He was threatening those around not to come closer to the scene. We also fled because we were afraid. He then ran away. The youth also chased him to arrest him," he narrated.
At Akyim Achiase in the Eastern region, two "wee" smokers were arguing over who was the kingpin in their hood which resulted in a serious fight.

One went home for a knife to allegedly stab the other to death and ran away. Police are on a manhunt for the culprit. #OnuaNews pic.twitter.com/4HXa7sMuxg

— #OnuaTV (@OnuaTV) May 30, 2022
According to the eye witness, the girlfriend of the culprit, Sophia Agyiri, received several beatings before being taken to the police station after learning Tomproo contacted her to meet him somewhere with his belongings.
"He called his wife [girlfriend] to meet him somewhere with certain things because he was traveling. So when we realised she was meeting the boyfriend who went home with his stained dress somewhere, we also beat her till we got to the police station. Now one of her eyes is swollen," he added.
Police confirm incident
Confirming the incident on Maakye, Station Officer at Akyem Achiase, Chief Inspector Benjamin Etua, said they met the lifeless body of Kwame Ofori at the scene. He was pronounced dead upon arrival at the Akyim Oda Government Hospital.
"We saw the lifeless body of 35-year-old Kwame Ofori at the scene. The scene is a place being developed. The residents were all silent over what actually happened. When we got to Oda Hospital with the body, the doctors confirmed to us that he was dead. We didn't get anyone to arrest when we went for the swoop," he noted.
This is not the first time Tomproo has committed murder according to the eye witness.
Source: Felix Anim-Appau|Onuaonline.com|Ghana