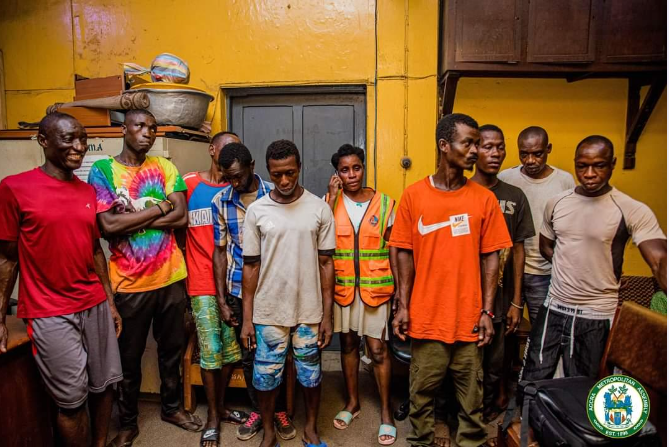 The Accra Metropolitan Assembly (AMA) has arrested Fifteen (15) people for dumping refuse at unauthorised places and indulging in open defecation contrary to Section 56(a) and (b) of Act 851, Public Health Act (2012).
Among the offenders arrested for dumping waste at unauthorised places are Rebecca Barnor Owuah 46, a sanitation worker under the Sanitation Model of the Youth Employment Agency (YEA) supervised by Zoomlion Ghana Limited and Akuley Tagoe 25, a Trader.
READ ALSO: About 1.5 million Ghanaians engage in open defecation – Report
The rest who have been arrested for open defecation are Bright Ayala 25, a boxer with the Wisdom Academy Gym at Jamestown, Suleman Yakubu 56, a Scrap dealer, Robert Quartey 52 years, Nii Quaye Isaac 37, a Driver, Abdul- Rashid Ayuba, 37, a Carpenter, Fuseini Alhassan, 31, a head porter, Ebenezer Nyarko 26, a coconut seller, Asamoah Dennis, 39 unemployed, Jesse Bills 27, unemployed, Kwaku Jacob 20, a staff of Sikkens, Kwame Ametordzi, 30 years unemployed, Ayetey Ayequaye, 40 unemployed and Adu-Gyamfi Bismark 32 a labourer.
The offenders who were arrested between the hours of 4:00am and 6:00am at different locations within the Central Business District (CBD) of Accra according to the Head of the Environmental Health Department of the AMA, Florence Kuukyi, would be made to sign a bond and pay the cost of abatement or risk court action.
Touching on the issue of open defecation, she stressed that the drains and open spaces were not places to attend nature's call adding that it was against the AMA's sanitation bye-laws.
"Open defecation leads to contamination of water sources and food…This can also cause typhoid fever, diarrhoea and cholera, this is why according to the bye-laws, every household must have a "place of convenience" or "toilet" and if it's absent in a home, its occupants should visit the public toilets," she said.
She used the opportunity to call on all residents and households to patronise the household toilet facilities being constructed by the assembly.
She warned that the Assembly had intensified its enforcement exercise and would not countenance any breach of the assembly's bylaws on sanitation, and food safety.
By Laud Nartey|3News.com