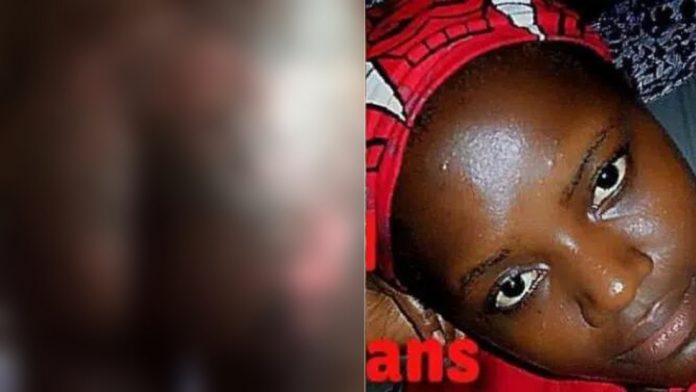 8-year-old Ehornam Mattson lives with his father and stepmother Lencia Akompi popularly called Maa Yaa at Abokobi in the Greater Accra region. 
The boy at his tender age has suffered the worst ordeal any human could ever go through as a child when his stepmother forced him to sit on hot water.
The little boy had complained of itches at his buttocks to the mother who forced him to sit on the hot water as a means of treating the itches for him making him unable to sit nor bend.
He can only lie flat on his belly to eat according to his real mother, Florence, who was once married to Ehornam's father, Frederick Mattson.
READ ALSO: Woman confesses to having sex with her biological son to give her husband a child
According to her, she allowed her two boys to stay with their father and "wicked" stepmother as a result of hardship.
"Due to financial constraints, my former husband, with whom I had three children—a girl and two boys—requested that I bring the boys to stay with him and his wife so he can take care of them.
"I never wanted to agree because I knew the current wife was a wicked woman, but I had no choice because I didn't have money at the time, so I agreed for them to live with them, where he enrolled them in school around December 2022," she narrated.
Even after inflicting pain on the boy, they (the father and the stepmother) initially wanted to keep it a secret from Florence, Ehornam's mother, but according to her, something kept prompting her to see her children and after several efforts, she was finally given the address to their school.
"They never wanted me to come closer to the children or even speak to them on the phone. After giving them pressure, the father then showed me the school he enrolled them at, Oyibi, in Accra," she said.
READ ALSO: Assin Fosu: Businessman slashes 10-year-old boy's fingers for stealing his scrap
"Upon reaching there, I asked for them, and I saw that my second son, who is 8 years old, couldn't walk well, so I asked what happened to him, and he told me that he was feeling some itches in his buttocks and notified his stepmother. The stepmother boiled water to be very hot and forced him to sit in it, where his buttocks got burnt and were severely injured," she added in a teary voice.
Miss Florence continued that her ex-husband and his wife took the matter lightly when she asked them saying the boy had been healed already, even when he couldn't sit or bend.
Although the school authorities didn't allow her to take her kids home, she inquired of their abode and "I headed to their house after finding out where they were staying, but to them, the wound has been healed, and the boy who can't still sit or bend is okay."
"I have taken them home and have been treating him with some Gentian Violet and Vaseline," she stressed, adding that her husband only visited once to give them the vaseline.
When asked if she had reported it to the police, she said, "Yes, I have reported it to the DOVVSU (Domestic Violence and Victim Support Unit), and they told me to bring a medical report from the hospital where he was treated first, which is Ridge Hospital, but they are demanding GH₵500 from me."
READ ALSO: Pastor impregnates 20 church members on advice of Holy Spirit
"I couldn't pay it, so now I can no longer find justice because I am poor," she cried out to Modern Ghana, an online portal calling on Ghanaians to help her get justice for the treatment meted out to her son.
The issue, according to Miss Florence, happened about two months ago, but the wound is still fresh.
Source: Onuaonline.com|Ghana