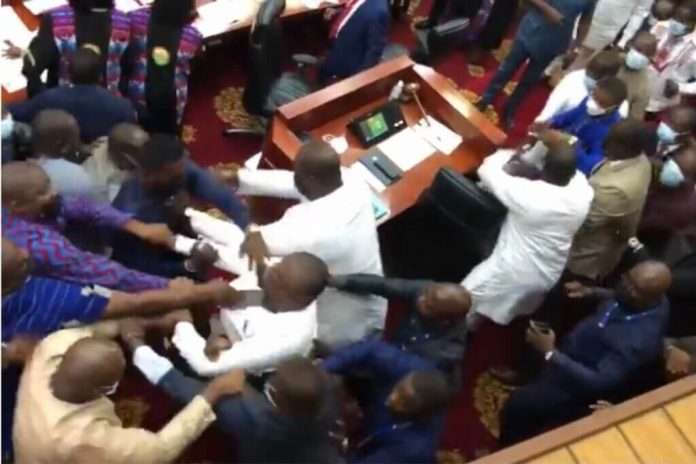 Executive Director of the African Centre for Parliamentary Affairs (ACEPA), Dr. Rasheed Draman, has said a free for all fight in Ghana's legislature is imminent pending the developments surrounding Sarah Adwoa Safo's case.
Dr. Draman's comments come on the back of the unusual positions taken by the two sides on the matter, and how drastic decisions have ended as far as the current hung Parliament is concerned.
After absenting herself from sittings for 15 consecutive times, Dome-Kwabenya legislator, Sarah Adwoa Safo was summoned to the Privileges Committee of the House with two other Members of Parliament (MP), Henry Quartey, Ayawaso Central MP and Kennedy Ohene Agyapong of the Assin Central.
The two appeared before the Committee and have been spared after giving the reasons for their absence for the period in question.
Meanwhile, Adwoa Safo has refused appearance before the Committee, after several opportunities were given her, including meeting her electronically to hear her out.
The Majority members on the Committee say they have declared her seat vacant whereas the Minority caucus of the side believe she must be heard first before such a decision could be taken.
Whilst the Majority in Parliament are rooting for her ousting, the Minority are opposing, which ordinarily should have been the other way round.
But speaking on Ghana Tonight Tuesday, July 26, 2022, the ACEPA boss noted Ghanaians shouldn't be surprised in case a fight pops up again in Parliament again over the matter.
"There is a lot at stake here. My understanding from visiting the House is that, one of the MPs is critically ill, so assuming that the person is still attending to treatment and is not in Parliament, it means that together with Hon. Adwoa Safo's absence, the NPP has 136 then NDC side, currently there is an injunction in Assin North, that brings their number to 136.
"Which means, we have a real, real hung Parliament. So that if you even need a simple majority and the NDC side says look none of them is going to support a motion to remove her, support the report of the Privileges Committee, then the NPP loses the vote. Because 136,136 and you need a simple majority, you need 1 or 2 from the NDC.
Assuming the Right Hon. Speaker is absent on that day, it becomes a disadvantage to the NPP. Let's pray we don't have a fight. Like we have seen in previous circumstances," he said.
"In the case of this, one would have taught that the NDC would be excited about the majority side. Because you know that is going to reduce for some time being, the numbers of the Majority.
"But the more you think about it and the posture being taken by the Minority side, you begin to realise that you know the realities of the hung parliament are playing our in our faces," he expressed.
By Felix Anim-Appau|Onuaonline.com