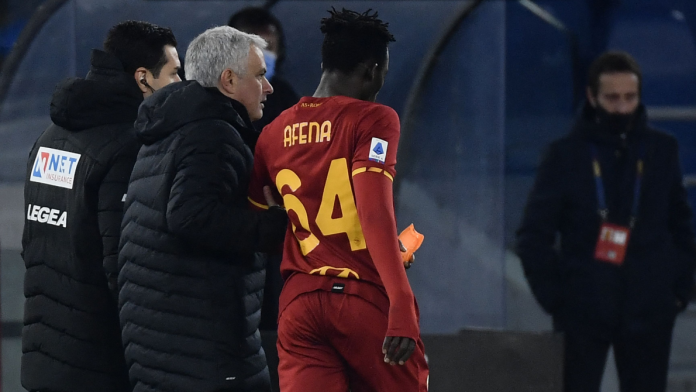 AS Roma coach Jose Mourinho has hilariously revealed why he bought a pair of new trainers for Ghana and Black Stars striker Felix Afenya-Gyan.
The young prodigy broke into AS Roma's first team after making his debut in November 2021 against Cagliari, and followed up with a Man of the Match display against Genoa, a game in which he netted a brace, quickly making him one of the hottest young sensations of the Italian Serie A.
Speaking on BT Sport, the former Manchester United and Real Madrid manager opened up on what triggered his decision to get a pair of new trainers for the young budding talent.
"Felix was there, didn't have a contract and was coming all the time with fake trainers and all the guys were making fun of him," he said with a beaming smile.
"The moment he came here and scored a winning goal, I have to say Felix, now it's time for these guys to stop bullying you, so now let's buy a proper pair of shoes," he added, revealing how Afena-Gyan has been wearing them everyday since he got them for him.
Afena-Gyan made his debut appearance for the Black Stars in the World Cup playoff games against Nigeria, helping book a place at the tournament slated for Qatar later this year.
Jose Mourinho's AS Roma side will be hoping to clinch European glory by beating Dutch giants Feyernoord in the Europa Conference League final on Wednesday.
By Nana Afrane Asante