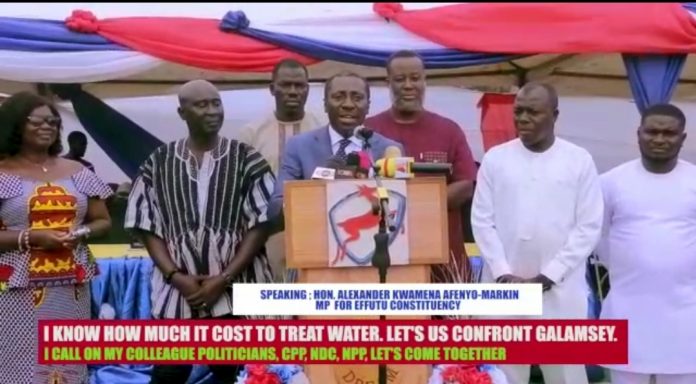 Deputy Majority Leader and Member of Parliament for Effutu, Alexander Afenyo-Markin, is calling on all politicians devoid of party affiliation to come on deck to fight illegal mining.
The legislator says it was time politicians eschewed parochialism and fought a common agenda that seek the interest of the citizenry.
Addressing a party function in his constituency, he underscored the need to protect water bodies to ameliorate the high cost of treating water for domestic use.
The Effutu MP indicated galamsey would destroy the country if care is not taken.
"President Akufo-Addo made me Chairman of Ghana Water. I know how much it costs to treat water and because politicians have made everything partisan, we are looking at the next election, we are unable to boldly confront the challenges that face our nation so galamsey is destroying us. People are dying of cancer.
"People are dying without knowing why they are dying. The water we drink, you think it is safe for you? Let us confront galamsey. Let us confront the challenges that is facing our nation. I call on my colleague politicians CPP, NDC, NPP, let us come together [and discuss] key national issues that will benefit our people in the long term.
"That is what those Europeans and America have done and we all want to go there. If we continue with this our parochial politics, trust me, our country will go nowhere," he charged.
By Felix Anim-Appau|Onuaonline.com