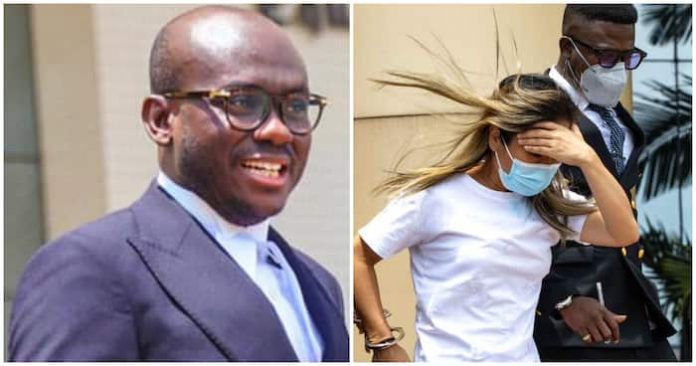 Trial for galamsey kingpin, Aisha Huang began today, Wednesday, November 9, 2022.
The Attorney General presented his first witness to testify on the case which according to Aisha's lawyer, Captain Nkrabeah Effah Dartey (Rtd), went in their favour.
The witness, –an immigration officer –per the lawyer's statement to the media after proceedings said he has no personal information about the accused for being engaged in illegal mining.
"The attorney general brought a witness, an immigration officer who came to say that he has no personal independent information about my client, Aisha Huang being connected with illegal mining," he said.
Meanwhile, she was denied bail for the fourth time.
READ ALSO: And Aisha Huang wept in court after being denied bail for the 4th time'
Her counsel described the situation as an embarrassment to him, even though he says it is part of the antcis of the game.
According to Mr. Effah Dartey, his client, Aisha Hunag, who wept in court, is as a result of her continuous denial of bail despite the numerous applications.
Speaking to journalists after proceedings Wednesday, Captain Effah Dartey noted even though the law gives them the right to apply for as many bails as possible, he sees that to be an exercise in futility after being turned down four times.
READ ALSO: 'I've been a prisoner twice, – Aisha Huang's lawyer explains why his client wept in court over 4th failed appeal for bail
"Once again unfortunately, my application for bail was turned down and I felt very embarrassed but it's one of the nuances of the game.
"The law gives us an opportunity to repeat an application for bail as often as possible except that looking at the demeanour of the judge, it might not be a useful exercise," he cried.
He explained why Aisha Huang wept in court.
"My client was crying because she has been in custody since her arrest and anytime application is made for her bail, she is turned down.
"Naturally every human being will react in the manner she did. I felt very sorry for her," he said.
Aisha Huang was arrested for engaging in illegal miking otherwise known as galamsey and also trading in mining equipment without license from the Minerals Commission.
By Felix Anim-Appau|Onuaonline.com