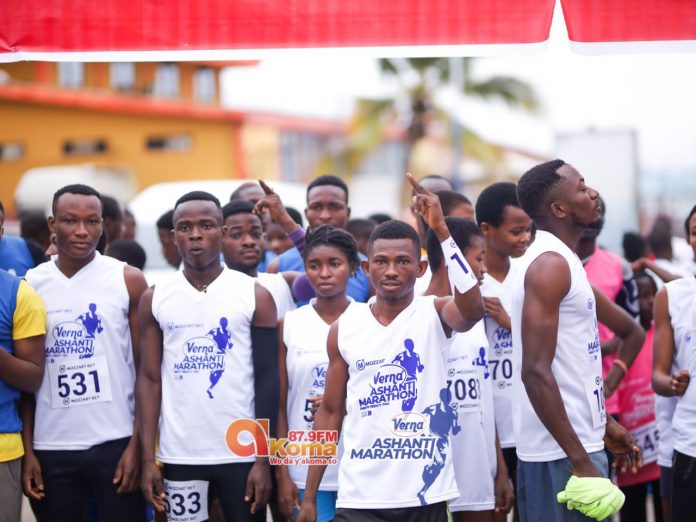 Patrons and participants of Akoma FM's Verna Ashanti Marathon have described the event as a timely intervention to revive the dwindling hopes of athletes in the region and beyond.
The participants say but for Akoma FM's Verna Ashanti Marathon, their hopes and dreams of becoming world-class athletes would have still been dusty on the shelves.
They explain though they have the passion, zeal and will to train almost everyday, there's no avenue or platform such as today's event to display their talents.
One of the participants, Portia Anaba explained that "we have the passion to run and contest in athletic events but we in Ashanti region don't have such opportunities so when I saw the Akoma FM's Verna Ashanti Marathon advert on TV3 and Onua TV I was very happy that's why I rushed to register and participated. So we will plead with the organisers to please make this event at least annual ritual or twice in a year to help we in the the region who have dreams of becoming Olympic athletes to take advantage and groom ourselves to explore our God given potentials."
In partnership with Verna Mineral Water, Street Sense Organisation, Panther Energy Drink, SP Citrus Punch, Aquatabs Purification Tablets, St Ben Jewellery,Mozzart Bet, Ashanti Region SRC, Meysu Fruit Juice and M-Baidoo Multimedia, the maiden edition of the competition brought together corporate groups, schools, keep fit clubs, other organised groups and individuals as stakeholders.
The Verna Ashanti Marathon saw over one thousand participants who ran through principal streets of Kumasi. The twenty one kilometre marathon event kick-started at Kumasi City Mall at about 7:00 am. Participants ran through the principal streets of Kumasi through Abrepo Junction, Ahodwo roundabout, Asafo and ended at the Baba Yara Sports Stadium.
Speaking to Akoma News after the marathon, most of the patrons urged the organisers and sponsors to ensure this event doesn't become a nine-day wonder.
By Nana Asenso-Mensah|AkomaFM|Onuaonline.com