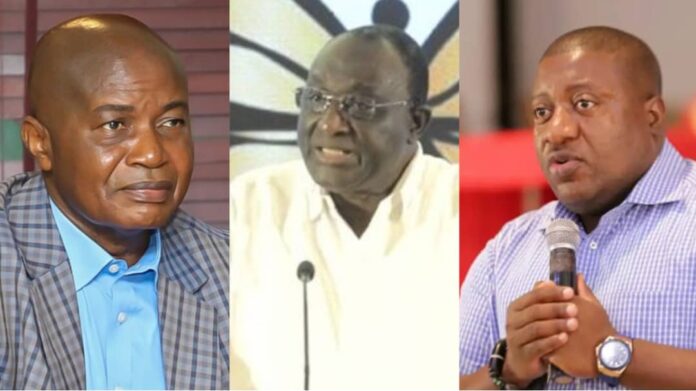 Alan John Kwadwo Kyerematen, 2024 flagbearer for the Movement for Change, has questioned the locus of the National Organiser of the New Patriotic Party (NPP), Henry Nana Boakye, otherwise referred as Nana B, to speak about his resignation in a distateful manner. 
According to Mr. Kyerematen, he is a founding member of the NPP and does not know when the likes of Nana B joined the party to spew certain comments about his decision to resign over some anomalies in the party.
The NPP National Organiser had indicated that Alan Kyerematen had to "orchestrate" and "conjure" some of his reasons just to make them sweet to the ears of Ghanaians.
"For me some of these assertions are not backed by facts," Nana Boakye said on Ghana Tonight on TV3 Monday, September 25, 2023.
"They are not backed by evidence, so I think that yes he intended to leave so certain reasons must be orchestrated and conjured so that he will hang these personal decisions, the rationale behind it on the orchestrations and conjecturings," Nana Boakye had said.
Meanwhile, National Chairman Stephen Ayesu Ntim had also indicated prior to Alan Kyerematen's resignation announcement that he visited his house and spoke to him, and even though he had some issues, he didn't foresee a resignation.
READ ALSO: Alan not quitting NPP despite concerns – Chairman Ntim assures
Responding to the issue, Alan Kyerematen called the bluff of the NPP National Organiser and the National Chairman, Stephen Ayesu Ntim.
According to Mr. Kyerematen, the NPP Chair visited his office after he pulled out of the primary and not because he was concerned about the ill-treatment meted out to him and his supporters.
"You didn't come to my house, you came to my office and ask him how many times he came to my office. He never even stepped foot in my office for support when he was contesting [the chairmanship]. He rushed to my office because of my resignation. So I told him I joined the party before you and as a Chairman, are the current happenings good things? I categorised everything to him and he said these are just like the olden days," he disclosed on Accra-based UTV Tuesday, September 26.
He added that, he paid a whooping GHC500k for the party to do a photo album for the primary but was ignored. For that, and other reasons he finds insulting, are the reasons he says he wants Nana B and others to keep quiet for spewing things they know nothing about.
"I paid GHC500k to the party to make an album and they were reluctant to do it. So I wrote to the chair that the behaviour might create problems and I also went to his house. He said he was going to look at it but didn't bother to act beyond his words.
The credibility of the album we used for the polls was in doubt.
"The album was supposed to be exhibited for people to verify their details but that wasn't done. But they rather formed a committee to authenticate the album. When did that Nana B come into the the party to be saying such big things?" he fumed.
READ ALSO: Wontumi orders removal of all Alan Kyerematen-branded items from party offices