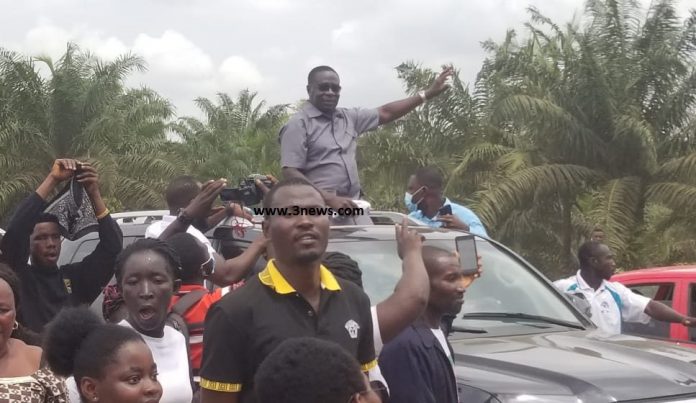 <![CDATA[
The Member of Parliament (MP) for Assin North Constituency, James Gyakye Quayson, was spotted in Parliament on Thursday, August 5, a week after a Cape Coast High Court judgement was pronounced against him.
The Court, presided over by Justice Coram Kwasi Boakye, ruled that Mr Gyakye Quayson was not eligible to contest the December 7, 2020 Parliamentary Elections because he bore dual citizenship before picking nomination forms from the Electoral Commission, Ghana (EC).
Fresh elections were, as a result, ordered to be conducted while Mr Gyakye Quayson was asked to cease from holding himself as MP.
But on Thursday, the man accused of having Canadian and Ghanaian citizenship was in Parliament to join in proceedings.
Many thought he had breached the Court's orders and could be in contempt of court.
But it has emerged that his lawyers have filed a stay of execution of the July 28 judgement, pending hearing on the appeal filed by his party.
On Monday, August 2, leadership of the National Democratic Congress (NDC) was at the Cape Coast High Court to file an appeal against Justice Boakye's judgement.
Exactly three days later, lead counsel Justin Pwavra Teriwajah was at the Court of Appeal to file the stay of execution motion.
In his affidavit, Mr Gyakye Quayson insisted he met all the legal requirements as spelt out in Section 9 of the Representation of People Act, 1992 before becoming a parliamentary candidate.
He stated that the stay of execution of judgement is necessary based on the exceptional circumstances arising from the numerous serious errors of law and constitutional infringements in the decision on the High Court.
By Emmanuel Kwame Amoh|3news.com|Ghana