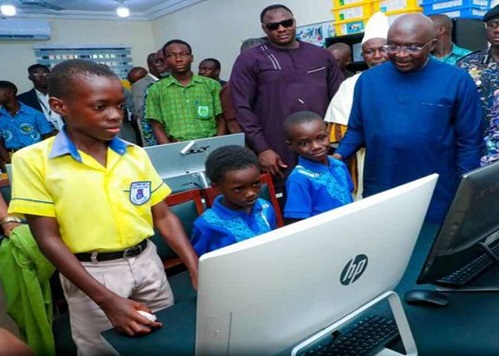 Vice President Dr. Mahamudu Bawumia has challenged stakeholders in the education sector to embrace the possibilities offered by Artificial Intelligence (AI) to improve teaching, problem solving and critical thinking.
The Vice President, speaking at the 75th Anniversary of Ghana National College in Cape Coast noted the initiative, when deployed meaningfully, could help bridge the gap between the developed and developing world.
"If we are in agreement that the boys and girls in our schools today are being trained to compete on the global stage, there is every justification for our students to be given exposure to AI.
READ ALSO: [VIDEO] 72-year-old woman begs Akufo-Addo to resign to save Ghana from total collapse
"Government's ongoing digitalization agenda is ample testimony of its appreciation of AI and the commitment to ensure that this country is not left behind. We have focused on pursuing digitalisation as part of our economic strategy because the Fourth Industrial Revolution is upon us and we must be part of the modern world…
Hailing the impact Ghana National College has had on Ghana's pre-and post colonial life, Vice President Bawumia said government was going to do its part in ensuring that AI becomes a key ingredient in providing education in Ghana.
"Whilst Government will do its part by leading the charting of a pathway to the deployment of meaningful AI in our national life, I expect our educational authorities to devise and deploy innovative teaching strategies that factor in ICT as a key ingredient," he indicated.
READ ALSO: 1992 Constitution: Bagbin takes a swipe on provision baring chiefs from active partisan politics; wants Supreme Court interpretation