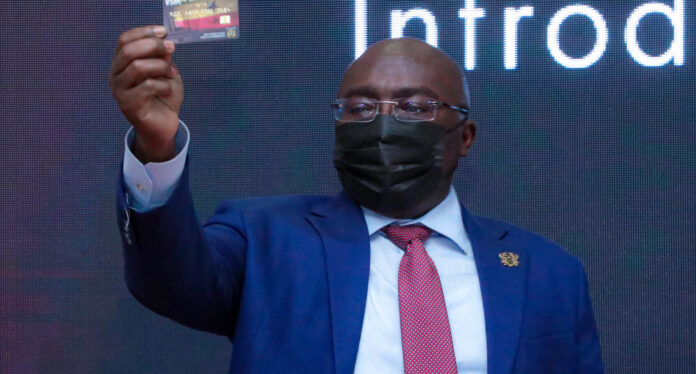 Vice President Mahamudu Bawumai has announced that the issuance of National Identification numbers, better known as Ghana Card numbers, to newborn babies in Ghana is ready for take off.
This follows the successful integration of the databases of the Births and Deaths Registry, the National Identification Authority and the Ghana Health Service.
The Vice President, who made the disclosure on Saturday July 22, 2023, said the first such Ghana Card number was issued to a newborn baby on Friday, July 21, 2023 after a successful test run of the system.
"The work of integrating the databases has been completed, The full test was done yesterday, and i am happy to say that the first Ghana Card number for a baby was issued yesterday.
READ ALSO: Assin North accusations false, aimed at maligning integrity of Commission – EC refutes claims of inserting unqualified candidate in register for by-election
"So in the next month or two, all babies born in Ghana, once they take them to Weigh In, will be issued the Ghana Card number and also get their Birth Certificate Identification number at the same time, because the two databases are talking to each other. The nationality of the parents will be established as part of the process".
"This is very transformational," Dr Bawumia noted, explaining that they will have these numbers from the time they are babies till they pass away.
Officials of the National Identification Authority (NIA) say cards bearing the biometrics and other data will be issued to the children when they are older, after their digits and other features are fully formed.
Speaking in Cape Coast at the 75th Anniversary celebrations of Ghana National College, Dr Bawumia emphasised that the issuance of ID numbers at birth was an integral part of government's ongoing digitalisation agenda, designed to prepare the nation to fully partake in the Fourth Industrial Revolution.
The Ghana Card is increasingly becoming the single source of proof of identity, with the unique number serving several purposes including; Social Security, Health Insurance and Tax Identification number.
READ ALSO: ICGC's Greater Works ends with a declaration for younger generation to fulfil dreams of Nkrumah, Kaunda, Nyerere et al