To say Bayern Munich's opening preseason friendly was a one-sided affair would be something of an understatement.
The defending German champion beat ninth-tier Rottach-Egern 27-0 on Tuesday as Bayern showed no mercy against the amateur side – perhaps the team doesn't need Harry Kane after all.
The Tottenham Hotspur and England striker has been reportedly linked with a move to the Bundesliga club over the summer.
READ ALSO: Bayern Munich take decision on sacking Tuchel
The score was already 18-0 by half time, but Rottach-Egern managed to limit the damage in the second half to just nine goals.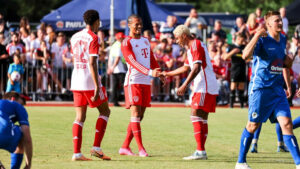 The match took place at Bayern Munich's training camp near the town of Tegernsee, with head coach Thomas Tuchel playing two entirely different teams to start each half.
Back in 2019, Bayern beat Rottach-Egern 23-0.
In attendance was Bayern's new signing Minjae Kim, who put pen to paper just hours before the preseason friendly.
The South Korean defender joins after a standout season with Napoli, helping the Italian club to win its first Serie A title in 33 years.
"FC Bayern is a dream for every footballer," Kim told Bayern. "I'm really looking forward to what's to come in Munich. It's a new beginning for me. I'll continue to develop here.
"In discussions with the club, it was made clear to me from the start how interested they are in me. My first goal is to play a lot of games. In addition, I want to win as many trophies as possible."
Source: CNN