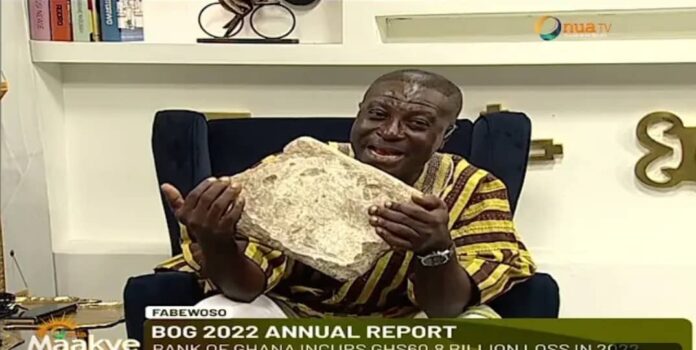 Captain Smart, host of Maakye on Onua TV/FM has lauded former President John Dramani Mahama for how he administered Ghana's economy compared to the Addo Dankwa Akufo-Addo regime.
During the Fabewoso segment on Maakye Wednesday, August 9, 2023, Captain Smart listed series of alleged scandals that have occured under the Akufo-Addo administration whose enormity, according to him, surpass those under Mahama.
According to him, the Bank of Ghana did not incur GH₵60.8 billion losses in a single year under the leadership of Akufo-Addo as contained in the 2022 Annual Report of the central bank.
READ ALSO: Ernest Owusu-Bempah writes: John Mahama's legacy of corruption rages on
Citing the intimidation of journalists, flying excavators, scandals involving the President's daughter and the financial sector cleanup which rendered many unemployed, the Maakye host presented to the former President in absentia, a piece of block to suggest he was better than Akufo-Addo.
Among the Akans, the expressions "bɛgye wo boɔ or wo boɔ nie" to wit come for your stone or here is your stone are used for persons who are vindicated at the end of a cause that had been in contention prior to ascertaining the real facts or the other side.
He explains that after leading a path to chastise John Mahama for his administration which he alleged was charcterised by ineptitude, greed, corruption and incompetence among other things, he has realised what Akufo-Addo's government is offering Ghanaians is worse compared to that of Mahama.
READ ALSO: Why the Ada people gave Captain Smart salt at Asafotufiami festival