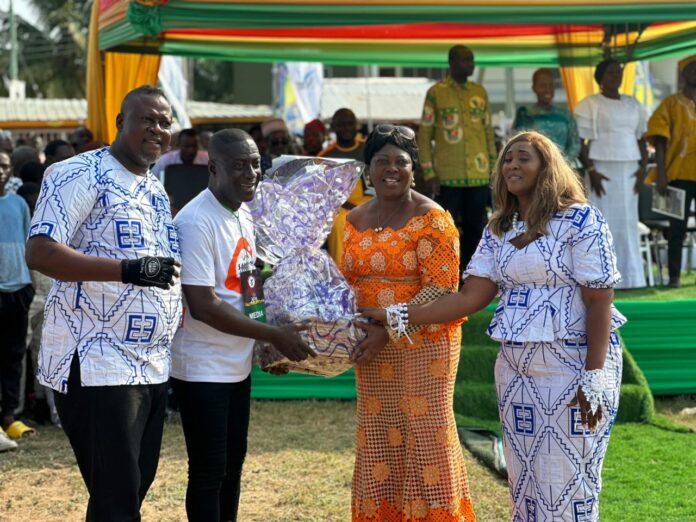 Captain Smart, host of Maakye on Onua TV/FM was awarded at Ada on Saturday, August 5, 2023, during the grand durbar of the Ada Asafotufiami festival in the Greater Accra region.
According to the Emmanuel Group –Ada indigenes resident in Tema Community 8 –that awarded him, they said his promotion of the festival prior to the celebration went a long way to sell their hometown and carnival within and beyond the borders of Ghana.
Speaking to OnuaOnline, the Leader of the Group indicated they gave him salt because as indigenes of Ada, the salt is the mineral they mine from the Songor which was given to their forefathers, which they have benefited from since.
READ ALSO: Asafotufiami: How the Ada people settled on name for annual festival 
"We are Emmanuel Group Society from Tema Community 8. How Captain Smart used to announce our festival on air every time, it made Ada proud. So we gave him salt because we are from Ada and that is the natural resource God gave us. He gave us the Songor where we mine salt so we gave him something which is naturally endowed on our land for his stupendous work of promoting our festival on air. And then we Lever brothers we gave him soap," she explained.
Beyond the gift given to him, she said "we Emmanuel Society we want to make him our patron."
Captain Smart hosted Onua TV/FM's coverage of the Ada Asafotufiami with Yaa Titi Okrah and Afia Tagor together with with Maakye Team as part of Onua TV's Sankofa Festival Train. This is the second year in running that the festival was carried live on TV and radio with preceded by the Onua People's Assembly, the Cooking Competition, the Miss Asafotufiami and the Onua Music Jams after the durbar.
READ ALSO: ADASCO wins second edition of Onua Sankofa Cooking Competition at Ada Asafotufiami