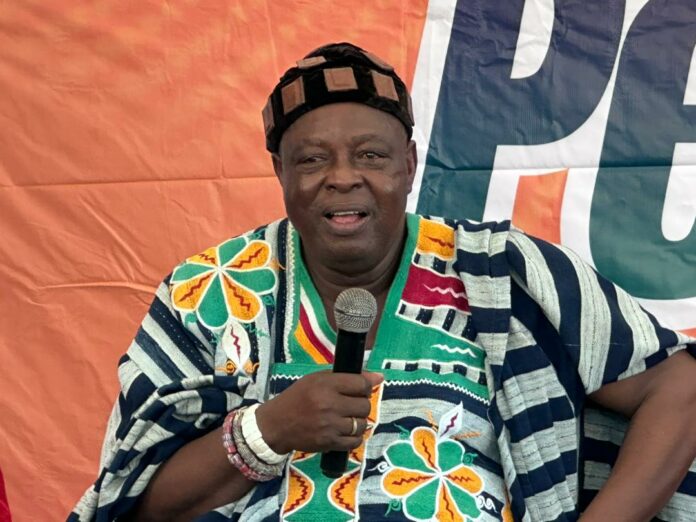 The Asafoatse Ngua of the Adibiawe clan of Ada,  Buertey Okumkro Obuapong has explained the the origin of 'Asafotufiami' as the name of the festival celebrated by the people of Ada.
The traditional authority says their forefathers settled on the name as a result of what they went through before settling at their present location.
With their roots from Israel and passing through Ille Ife in Nigeria before settling on the Eastern part of Ghana, the Asafoatse Ngua says they fought many wars.
However, when some of their brothers eloped to other territories within Ghana as a result of the battles they encountered, they decided to celebrate the last war they fought before till date.
READ ALSO: Kokonte is medicinal; it cures stomach ailments – Traditional cooks share healing prowess of local dish
He says the 'Asafo' represents the people who through their resilience sustained the Ada lineage from Israel through to Ghana.
The 'tuo' he indicated means gun, whilst the 'fiami' means shooting.
Meanwhile, as indicated by the three traditional representatives who were at the People's Assembly this morning, –Naana Adiki Manyeyo Adi, Queen mother of Adibiawe clan; Nene Debrah Kotoko V – Kabiawe Kponor and Buertey Okumkro Obuapong – Asafoatse Ngua, Adibiawe clan –the Ada people are no more fighting wars but rather fighting poverty, hunger, sickness, illiteracy and any other social vices.
READ ALSO: LIVE: Onua People's Assembly is airborne from Ada Asafotufiami festival