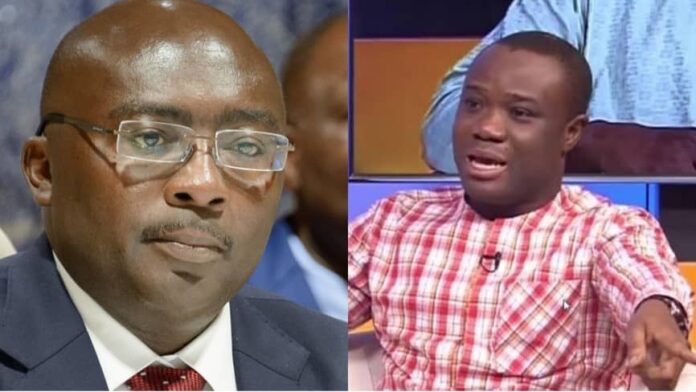 Vice President Mahamudu Bawumia's comment that "just like the Biblical Paul, my coming is a turning point for Ghana" has invoked a former deputy minister of Communication under the erstwhile Mahama government, Felix Kwakye Ofosu, to dig into his digital archives to remind him of comments he made about Mahama's candidacy some years ago.
During the 2016 electioneering campaign, Dr. Bawumia criticised then sitting President John Dramani Mahama for seeking reelection after steering the economy without laurel for 8 years.
Dr. Bawumia berated John Mahama for not unveiling his magic to save the economy from the mess the NDC created if he indeed had anything to offer.
READ ALSO: Bawumia Campaign team dismisses funding allegations from a group in Nigeria
"…You as president, you have presided in 8 years over the collapse of our economy. If you knew the plan that would work for our economy and be successful, why haven't you implemented that plan in 8 years. If you know what can work for our economy, why is the economy collapsing in your hands after 8 years?" Dr. Bawumia indicated on a campaign platform in 2016.
Seven years down the lane, Dr. Bawumia after serving as Vice President and seeking to be elected to lead his party and subsequently the country says his coming will turn things around for the country.
READ ALSO: Rachael Akosua Lundgren writes: SDG 5: The essence of gender equality in a developing economy
But the Parliamentary aspirant for Abura Asebu Kwamankese believes the Vice President must be a comedian for making such pronouncement after comments he uttered 7 years ago.
"After superintending the destruction of the Ghanaian economy in the last 7 years, Alhaji Bawumia, the comical religious nomad, says he is the biblical Paul who will turn Ghana around," Mr. Kwakye Ofosu stated in his tweet.
After superintending the destruction of the Ghanaian economy in the last 7 years,Alhaji Bawumia,the comical religious nomad, says he is the biblical Paul who will turn Ghana around. In the video in the 2nd frame,he provides an answer to this claim. pic.twitter.com/bj1hJY86y0

— Felix Kwakye Ofosu (@FelixKwakyeOfo1) August 7, 2023
READ ALSO: Kwakye Ofosu tackles Bawumia on public debt comment