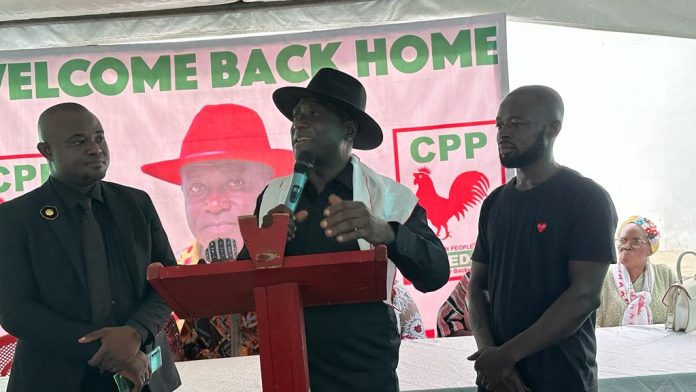 Onua FM/TV morning show host Blessed Godsbrain known as Captain Smart has officially picked a membership card to join the Convention Peoples Party (CPP).
Leadership of the CPP at the party's national headquarters in Accra on Thursday, January 18, 2023, unveiled and welcomed him.
Chairperson of the party, Akosua Sarpong Kumankuma in her address stressed that the party is ready to equally welcome the teeming youth and other interested people to occupy the over 8,000 positions in the party nationwide.
READ ALSO: BREAKING: Captain Smart officially joins CPP
"We are excited to officially welcome Captain Smart our brother back to CPP.
"We look forward to your support and contributions to massively project and propel CPP to win power come 2024," the Chairperson reiterated.
Akosua Sarpong Kumankuma challenged the Onua TV Maakye morning show host to use his membership to captivate the masses to join the CPP for victory.
Captain Smart in his reaction, expressed joy for the overwhelming reception by the rank and file of the party.
He pledged to be a staunch and hardworking member to reactivate the CPP from the grassroot level.
However, Captain Smart urged the leadership of the party to burry their differences to make the party attractive to the youth and the masses.
"This is the time we need to bury our differences and come together as one so that the party will be attractive for the youth out there," he noted.
He has insisted CPP is capable of wrestling power in 2024 and thus called on the youth to join the race.
By Maxwell Otoo|OnuaFM|Onuaonline.com.