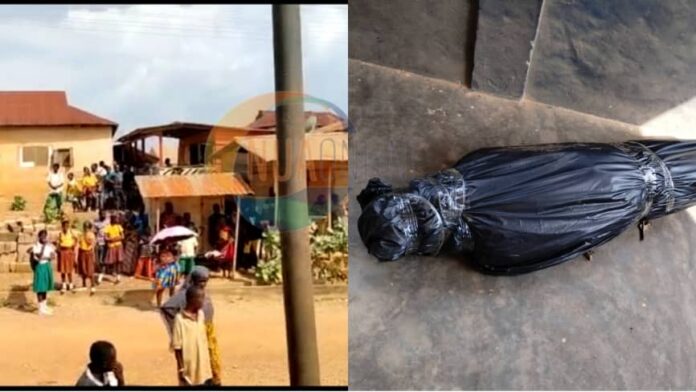 Nine people who are said to be illegal miners escaped death when the canoe they were ferrying on capsized on River Pra at Awisam in the Assin Fosu municipality of the Central region.
The Monday, April 17, 2023 incident has left two persons still missing. They are Nana Yaw, aged 26, and Konkoma who is said to be in his 30s.
According to reports gathered by Assin Fosu-based Rich FM's Adwoa Kwanimaa, the 5-man passenger canoe was carrying 11 people around 7pm on the day when they had an accident, with 9 of them swimming ashore.
READ ALSO: Mosquito stings Ofosu Ampofo to win NDC chairmanship race
The Assemblyman for Awisam, Jerry Ayuba confirming the incident to Adwoa said a search party has been launched to retrieve the two bodies.
"On their way from the site, there were 11 of them on one canoe. The canoe struck a stump in the river and 9 of them fell inside with two remaining. Those who don't know how to swim wanted to mount the canoe again and the pressure bent it causing the two remaining inside to drown. Their bodies have not been found yet," he narrated.
Mr. Ayuba is convinced the youth who usually fall prey to such incident in the area value the money they make more than their lives, the reason they have not heeded to their advice and want the two bodies retrieved and buried so they can reaume to the site for their operations.
"The youth who are involved in it (galamsey) are more concerned with the money than their lives. And negligence is also part. Ideally the canoe should take just 5 people but they were 11 because they feel they can swim so whenever it happens they can escape but some of them die.
READ ALSO: NPP members masterminded my removal to indulge in galamsey – Prof. Frimpong-Boateng
"About four years ago four of them died. Sometimes it capsises and one or two persons die. A blade of gold gives them over ₵500 and each can get that everyday so they prioritise the activity to learning a trade. We have advised them several times but they don't listen. Due to the two bodies that are still inside the water, they cannot work so they are forcing to retrieve the bodies and bury them so that they can go back to site tomorrow," he revealed.
By Felix Anim-Appau|OnuaOnline