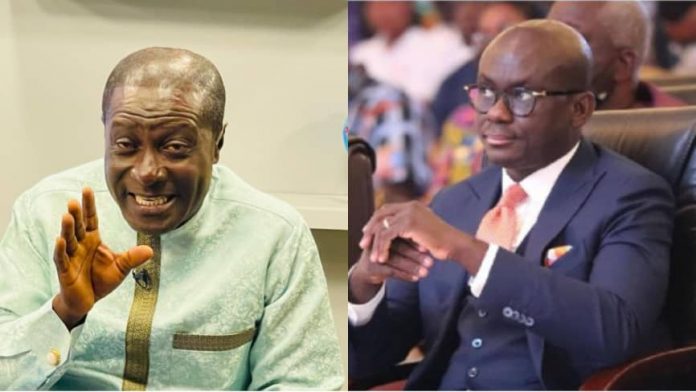 Host of 'Maakye' on Onua TV/FM, Blessed Godsbrain Smart has asked the Minister of Justice and Attorney General, Godfred Yeboah Dame to resign.
He says his personal bodyguard should also resign with the Minister. His call comes after the bodyguard of the Minister allegedly attacked a security officer at the Law Courts Complex in Accra yesterday.
Mr. Smart says the act exhibited by the bodyguard which the Minister looked on is an indictment on Ghana's justice system since the Minister is the custodian of the laws of the country on the citizen's behalf.
"Let us assume you [Godfred Yeboah Dame] didn't know the bodyguard was going to throw a punch. But after doing that, what did you do as a Minister and custodian of the law? Your bodyguard must be sacked and you Godfred Dame should resign," he underscored.
The Courts Complex in Accra became the scene to behold Monday afternoon when a bodyguard to the Attorney General, Godfred Yeboah Dame, allegedly slapped a security officer at the entrance to the Accra High Court.
According to an eyewitness who spoke with Onuaonline, the security officer redirected the vehicle of the AG when it got to the entrance, saying the parking lot was full.
The bodyguard, who is allegedly a Military officer dressed in mufti came out of the car and slapped the security.
The security man retaliated. The eyewitness narrates Mr. Dame's bodyguard pulled a trigger after he was replied with the slap.
The fearless security officer dared Godfred Dame's bodyguard to shoot him, exhibiting his readiness for the shot.
The commotion drew the attention of people who started trooping to the scene. Lawyers and Judicial workers came out of courtrooms and offices to catch a glimpse of the mayhem.
Other security officers joined their colleague and started exchanging words with the AG's bodyguard. He was arguing that, the car should be given passage because it belonged to the Attorney General.
Upon witnessing the fierceness of the security officer and the crowd that had gathered there within the short time, the military officer pulled back his pistol.
Mr. Dame, also came out of the vehicle had to rush back and drive away following the huge crowd that was forming at the scene.
Watch the final part of the scene captured by an eyewitness below.
By Felix Anim-Appau|Onuaonline.com