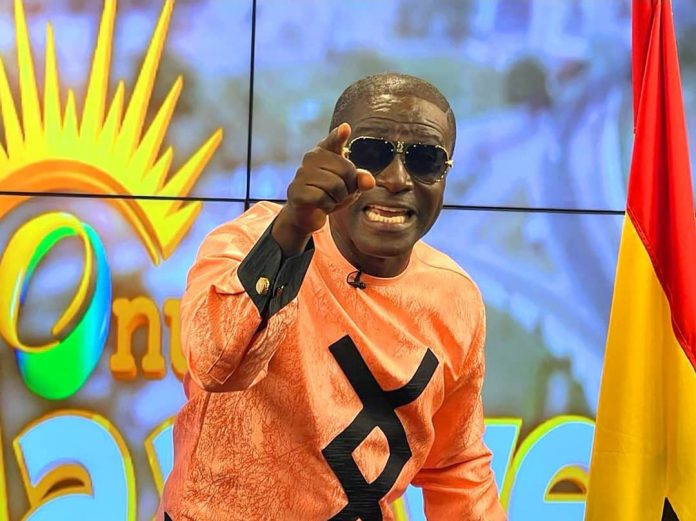 Ghana's application for a bailout from the International Monetary Fund according to government is due to the impact of the COVID-19 pandemic and the Russia-Ukraine war.
But host of Maakye on Onua TV/FM, Captain Smart thinks otherwise.
The broadcaster believes government's ostentatious lifestyle from its profligate expenditure, among other reasons is what has led the nation to the IMF.
"You don't have money yet you want to show off. If you earn 2,000 cedis a month, you don't wrestle with someone who earns 20,000 for a seat at a restaurant.
"From 2017 till now, government has printed over GH₵3billion fuel coupons. When CEOs buy fuel, they present the receipt for refund," he said during his rants on Maakye Tuesday, July 5, 2022.
Captain Smart also alleged government officials use state money for unnecessary funeral donations. The practice he claimed has made many politicians wishing to lose their relatives in order to amass money to finance their campaigns.
Then again, he said even though "the Akufo-Addo government has generated GH₵77.5billion in the last five years, yet we owe contractors over GH₵4billion. Has Ukraine, the country at the centre of the war, have they gone to the IMF?"
Thievery, he also said is another reason why Ghana is seeking a bailout. He cited for instance some GH₵1.4billion which government earmarked for the 'making Accra the cleanest city in Africa' agenda without any results.
Touching on nepotism, the vociferous host mentioned people like Asante Bediatuo and his brothers who are at the centre of affairs in this administration, contributing to the economic woes of Ghana.
He cited the Biblical donkey used by Jesus Christ to expose the corruptive nature of Ghanaian leaders, leading to why IMF has become the final resort.
"We were told donkeys were stealing our fertilisers to Burkina Faso. Jesus knew there would come a time when Ghanaian leaders would lie about camels stealing fertilisers. That's why in the Bible, Jesus said go and release the donkey, meaning the donkey wasn't roaming about but had an owner which is why it was tied. Every donkey has an owner. Who is the owner of those donkeys?," he questioned.
He advised that until leadership stop suppressing the youth, Ghana will never develop as indicated in the scriptures, adding that government's recourse to the IMF means the "NPP have dug their opposition grave."
By: Felix Anim-Appau|Onuaonline.com|Ghana