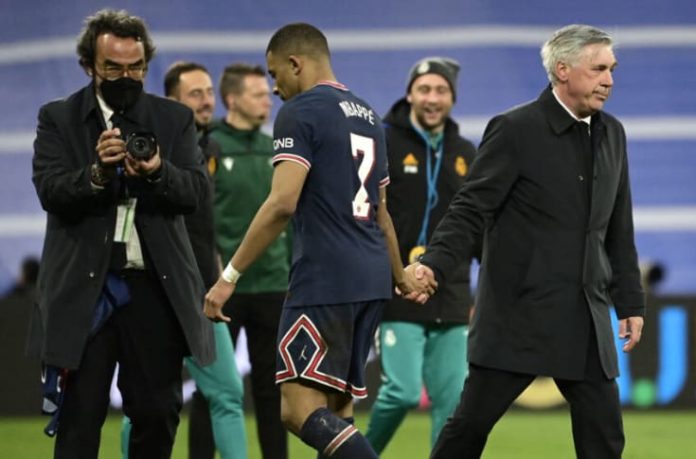 With Paris Saint-Germain being knocked out of the UEFA Champions League at the hands of Bayern Munich, once again the Kylian Mbappe to Real Madrid rumours are picking up pace.
Of course, they dominated the headlines for most of last season, as many believed that the French World Cup winner was destined to join Los Blancos as a free agent.
He stunned the footballing world by signing a contract extension with PSG though. But it looks like things have not gone as well as he would have hoped, as they come off of another failed Champions League campaign.
READ ALSO:  Sam George raises concerns over Hughton's appointment as Black Stars coach
As a result, it is not a surprise that the rumours linking the Frenchman with a move to Real Madrid have cropped up again. Whether it will lead to anything or not, only time shall tell.
Real Madrid manager, Carlo Ancelotti, is adamant that he will not discuss about the possibility of signing Mbappe in public though. As tweeted out by Fabrizio Romano, the Italian coach said:
"Would I like to sign Mbappé? Ask me today, you can ask also in two weeks or three months — I will never answer this question."
Real Madrid manager breaks silence on Mbappe rumours
Signing Mbappe would be a great move on the part of Real Madrid. He is without doubt amongst the best players in the world, and at 24 years of age, will remain at the top for a long time to come. But getting a deal done for him would be very difficult.
First of all, after how the transfer saga turned out last season, that will certainly have an impact on any future discussions. At the same time, if Real Madrid want to sign the Frenchman in the summer, it will not be simple, as they would have to agree a fee with PSG. The relationship between the two clubs is not the best if rumours are accurate.
The Mbappe to Real Madrid transfer rumours just refuse to go away. But there is much better chance of a move happening in 2024, than there is this summer.
Source: TheRealChamps