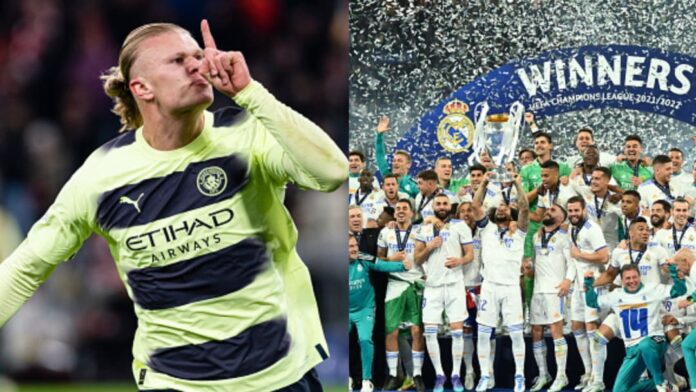 With the evenings getting lighter, you know that the Champions League is getting to the really good bit.
It has been a thrilling campaign so far with and we're now down to the final four teams. Real Madrid are still standing after knockout ties against Liverpool and Chelsea and will face Manchester City, whose quarter-final with Bayern Munich was also a fine spectacle.
There's also the small matter of an Italian derby in the semi finals as AC Milan face Inter across two legs for a spot in the final.
We all love our predictions, so here's the current state of play in the Champions League and who the stats say will come out op top in the final in Turkey.
Who is in the 2022/23 Champions League semi-finals?
Both semi-final ties are incredibly intriguing. One sees two sides that many pipped to be finalists at the start of the campaign meet, while the other is one of Europe's great local derbies between two sides that did not expect to get this far.
Real Madrid will be the home team in the first leg of their semi-final against Premier League champions Manchester City, while AC Milan and Inter will play two games at San Siro, the first of which will have Milan as the home team.
09/05/23 – Real Madrid vs Manchester City
10/05/23 – AC Milan vs Inter
16/05/23 – Inter vs AC Milan
17/05/23 – Manchester City vs Real Madrid
Projected 2022/23 Champions League semi-final results
Here's who FiveThirtyEight's supercomputer thinks will win the 2022/23 Champions League final. It uses its Forecasts and Soccer Power Index (SPI) ratings to predict each of the remaining fixtures in the Champions League.
Man City

Real Madrid

AC Milan

Inter

Semi-final first leg

39%

37%

40%

35%

Semi-final second-leg

54%

24%

29%

46%
The supercomputer shows City are narrowly more likely to get a victory at Santiago Bernabeu despite Real being the home team. It gives a 24% chance of that match in Spain ending in a draw.
As for the second leg, City have got a very good chance of getting what they need at the Etihad according to the computer. Overall, they have a 63% chance of making the final – what would be just their second ever in the competition – compared to Real Madrid's 37%.
As for the all-Serie A tie over in Milan, it's AC Milan who have narrowly better chances of winning the first leg where they will have more fans inside San Siro.
The week after, though, it's the Nerazzurri who have been tipped to triumph. The computer gives Milan just a 29% chance of winning the second leg.
That means Inter have a 55% overall chance of making the final compared to Milan's 45%. That makes it a much narrower tie in the Derby della Madonnina than what will be seen between Real Madrid and Manchester City.
Who will win the 2022/23 Champions League final?
The computer is yet to provide percentages on a specific match between Manchester City and Inter, its expected Champions League finalists.
It does, though, have a ranking system for the teams currently remaining in the competition and Manchester City are deemed as having a 48% chance of winning the final should they get there. For Inter, that figure is just 15%.
City have got a Soccer Power Index from the computer of 92.3, while Inter's is 77.4. City's offensive rating is 3.0 while Inter's is 2.3. The defensive rating for Pep Guardiola's side, which you want to be low rather than high, is 0.3. to Inter's 0.8.
The stats seem to point in Man City's direction as the side tipped to finally win Europe's most prestigious prize, one which has eluded them for many years under their Middle Eastern ownership. It would no doubt be the crowning moment of Guardiola's time at the club.
Source: 90minutes.com