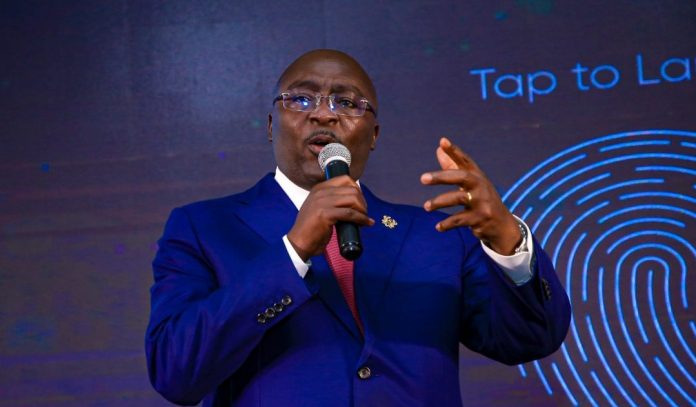 Vice President Mahamudu Bawumia has underscored the essence of the NPP government digitalising the Ghanaian economy. The introduction of the ECOWAS Identity Card, nicknamed 'Ghana Card', the Vice President has asserted, will soon transform Ghana into a digitised economy just as other developed nations.
Speaking at the 18th Biennial Youth and Students Assembly Conference of the Methodist Church Ghana at Gomoa Feteh in the Central Region, Dr. Bawumia enumerated the 'magical prowess' of the Ghana Card and how it is and would transform Ghana in the shortest possible time.
"We set out to build a transformed economy by infusing technology. And so we have put in place a number of systems. First is the Ghana card," he noted.
Beginning with the Students Loan Trust Fund, Dr. Bawumia said students with the Ghana Card can access the loan without a guarantor.
Also, government is linking the ID with citizens' NHIS, SSNIT, DVLA, GHS, Controller and Accountant General and the Ghana Police Service amongst others.
Ghost names on government payroll would also be a thing of the past according to him.
"By the end of this year, it'll no longer be possible to have ghost workers on the government payroll because everybody will be linked to the Ghana Card ID," he assured.
Let alone, the head of Ghana's Economic Management Team indicated the Ghana Card will help in tracking the criminal records of people to determine the background of persons others would want to employ.
"We have linked it [Ghana Card] to the police and the integration is going on and we expect that by the end of this year, when the system is activated, you can check the criminal background of anybody"
"Today because of the Ghana Card, even if you die through accident, we can take your fingerprints and know who you are, who your relatives are and they will be contacted," he said.
Because all bank accounts are linked with Ghana Card according to the Veep, "anybody can open account just with the Ghana Card number on your mobile phone. You don't need to go and fill a form. Also just by imputing your card number in a USSD code that you'll dial."
Let alone, the Ghana Card he disclosed will reduce crime rate since people cannot hide to commit crimes, and further curb "corruption, enhance the efficiency of the delivery of public services, reduce the cost of doing business and bureaucracy."
"Today with the Ghana card, if you travel to abroad now and you lose your passport, you can take your Ghana Card, board a plane and come back to Ghana. All the diasporan Ghanaians, if you get the Ghana Card you don't have to apply for a visa before coming back to Ghana. They'll take your Ghana Card, board a plane and arrive in Ghana," he included in his statement.
The 2024 Presidential hopeful urged the youth to capitalise on the digital agenda of government to transform the economy and country.
By Felix Anim-Appau|Onuaonline.com|Ghana