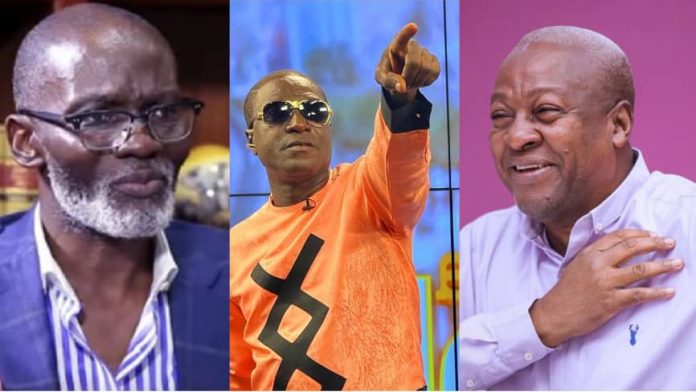 Broadcaster Blessed Godsbrain Smart has extoled former President John Dramani Mahama for professing better solutions to the economy than the current administration.
Captain Smart on his show Maakye Tuesday, June 28, 2022 said even though the last administration of the opposition National Democratic Congress (NDC) was nothing to write home about, comparing it to the abysmal performance of the Akufo-Addo government makes the former a better option.
His comments stem from a pile of tweets by a leading member of the New Patriotic Party (NPP), Gabby Asare Otchere-Darko, who says he is not against the government seeking economic support from the International Monetary Fund (IMF).
According to him, any move or plan by the government to go to the IMF for a programme would be a matter of principle.
"Am I against an IMF programme in principle? No. I am not for an IMF programme that throws peanuts at us but imposes conditions that will end up hurting the poor, jobs and businesses more.
"Covid-19 and War in Ukraine are not of Africa's doing, but more to our doom. A programme that pretends it is all our doing is doomed to fail," he tweeted on Monday, June 27, 2022.
The tweet according to Captain Smart is a ploy by the government to test the waters on Ghanaians reaction if government goes to the IMF.
According to Captain Smart, it is due to the poor policies of the government that has led Ghana to its current situation where an IMF programme has become imminent.
President Mahama, he espoused, deserves a laudation for his management of the economy, at least compared to that of Akufo-Addo.
"I'm not an NDC and will never vote for them but Mahama this is your stone. Gabby is gradually texting the waters to see how Ghanaians will react if government goes to the IMF.
"Who incurred those cost? Nana Addo said investor confidence is high but Gabby says it's low. Our revenue is dropping because the numerous banks you collapsed would have paid taxes. The ₵71m toll levy you closed would have built schools," Captain Smart said.
He said government is wailing over the Russia-Ukraine war because of laziness.
"We are crying over Russia Ukraine war yet our Avehime rice factory is collapsing. Those crying over the war are leaders that refuse to think. We are not kids Gabby. Your uncle says you should come and test the waters. You're already at IMF.
"I said in February 2020 that government will borrow to pay. And as I speak, government has borrowed from Stanbic, Stanchart, Barclays and Fidelity to pay salaries," Smart alleged.
By: Felix Anim-Appau|Onuaonline.com|Ghana