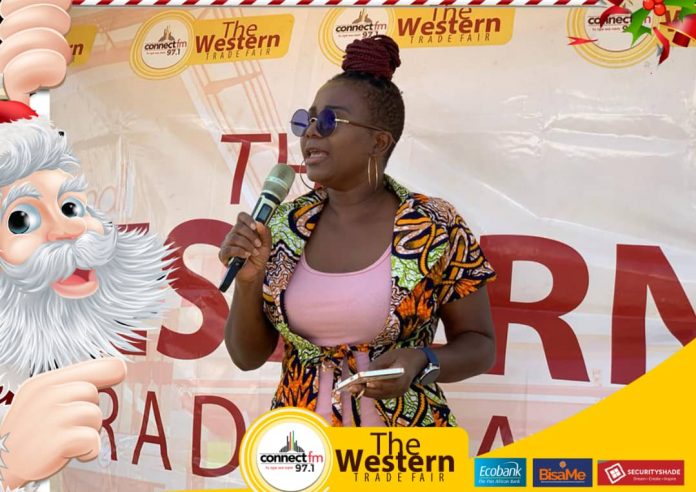 Western and Central Regions Bureau Chief of Media General Shirley Ewurama Smith has encouraged exhibitors at Trade Fairs to identify and create business partnerships with like-businesses, at the fair, that will enable them grow.
According to her, it is not enough to attend "trade fairs and all you will think about will be how to make sales at the trade fair without considering what happens after the trade fair".
"It is good to want to put all your efforts in making good sales at the fair grounds. But ask yourself what happens after the fair. Some exhibitors don't really make sales at the fair but rather after and sometimes that is even more profitable."
She added "look for other exhibitors who sell similar products and talk to them. Learn from each other what makes the business tick, work on a plan and go into partnerships after the fair. For example, if you are in Tamale and your partner is in Takoradi. Your partner can sell your product in Takoradi while you do same for him or her in Tamale."
The Western and Central Regions Bureau Chief was speaking at the launch of the 10th edition of Media General's Takoradi-based Radio Station, ConnectFM's Western Trade Fair – December edition – at the Takoradi Shopping Mall.
Connect Western Trade Fair is the biggest pre Xmas shopping activity in the Western and Central Regions. Exhibitors from across the country assembly to trade in affordable but quality wares.
Operations Manager of Takoradi Mall Edwin Dawson Amoah assured of the Mall's continuous partnership with ConnectFM as "we believe that the trade fair is a unique platform to promote the growth of indigenous businesses."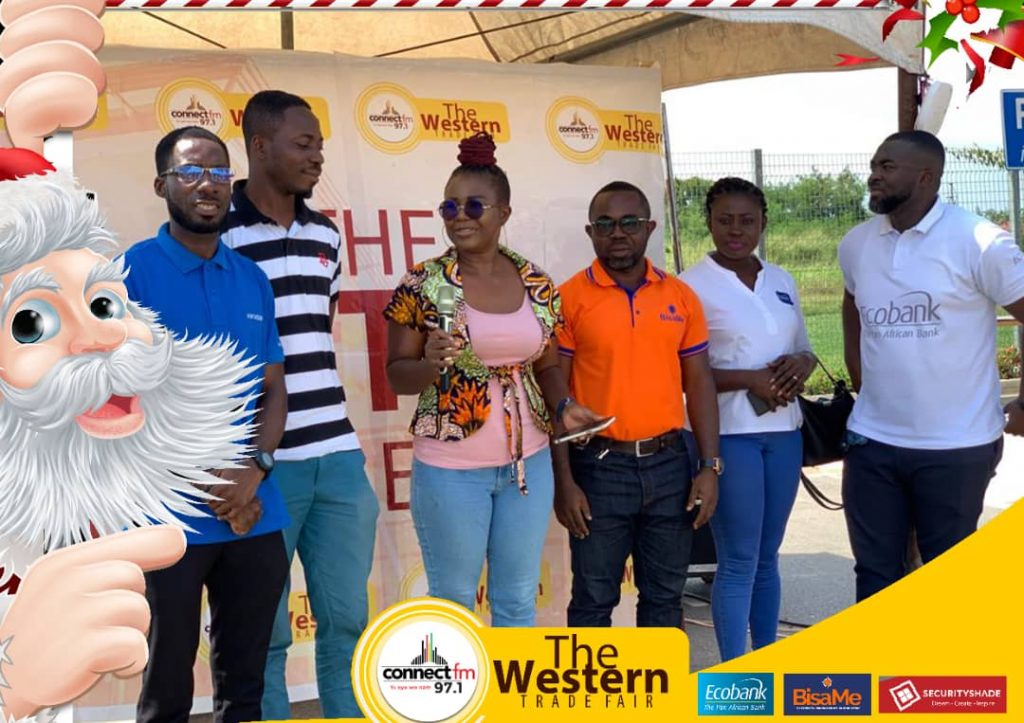 "The Mall is a one stop shop for high range products and services. We have spaces for retail and corporate services. When we started, we had only 7 tenants but now we have 47. Some of our tenants started with the Connect Western Trade Fair. The Mall will be 4 years this year and we are grateful for all the support so far".
Chief Operations Manager of BisaMe Menz Darko said his outfit is looking forward to many years of mutually beneficial partnership with ConnectFM.
"We are happy to be here with ConnectFM. BisaMe is a unique platform where even if you are using a yam phone, you will be able to connect and look and order for anything you want anywhere. For those who also have a product or service to advertise, BisaMe offers you the unique platform to be seen. BisaMe now makes it possible to connect with the previously unconnected.
Relationship Officer of Ecobank Market Circle, Takoradi Francis Boamah used the opportunity to launch three products which "will make life a bit easier in these times".
"We have the new MS Card designed and introduced for the youth. We also have the third-party jobs which makes banking more accessible and convenient. Now, you don't have to necessarily go to your branch but express points we have set up where our partners will do all your banking transactions on our behalf. Then the third one is what we call the consumer finance where we have partnered with some companies where you can pick an item and pay in instalment and there is no interest on that commitment".
The December edition of the Connect Western Trade Fair is sponsored by Ecobank, BisaMe, SecurityShade and with partnership from the Takoradi Mall.
By Eric Yaw Adjei|ConnectFM|Onuaonline.com