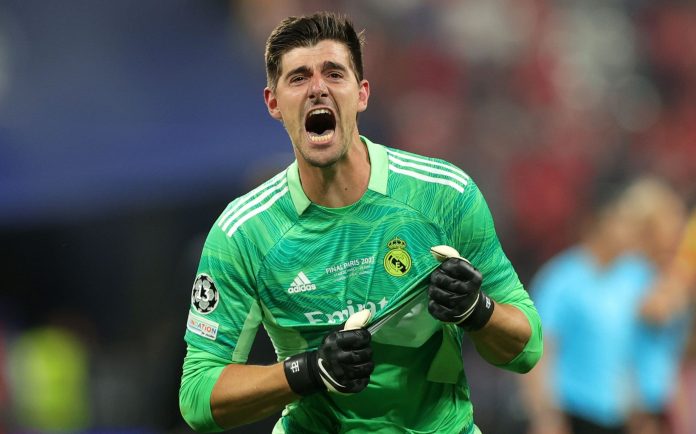 Real Madrid goalkeeper, Thibault Courtois says he wants to avoid the remaining English clubs in the Champions League quarter-finals.
The Belgian goalie was in post when Los Blancos saw off Liverpool with a 1-0 triumph on Wednesday night at the Santiago Bernabeu Stadium.
Carlo Ancelotti's side qualified for the last eight with ease after beating the Reds 6-2 on aggregate, as they push to defend their European title.
Thibaut Courtois wants to avoid both Manchester City and Chelsea in the next round, having played both in last year's edition.
READ ALSO: Real Madrid: Ancelotti names player blocking Hazard from playing
Manchester City advanced to the next stage after thrashing RB Leipzig 7-0 at the Etihad Stadium on Tuesday, while Chelsea are through after beating Dortmund 2-0 at Stamford Bridge last week.
The other teams still in the competition include Napoli, Inter Milan, AC Milan, Benfica, and Bayern Munich.
Real Madrid could therefore be paired together with any of the teams in the quarter-finals but their safest pair of hands, Courtois is hoping his side will avoid Chelsea and Manchester City.
"I would like to change a bit," he said, via Daily Mail. "Last year we already faced City and Chelsea, let's see if we play other teams this year."
He added: "Last year we made it clear what character we have in the team, with comebacks, we earn respect, we show that Real Madrid is always there."
Real Madrid eliminated both Chelsea and Manchester City from the Champions League last term, before beating Liverpool 1-0 in the final to win their 14th European title.
READ ALSO: Hargreaves names the only team that can stop Man City in Champions League
Source: SportsBrief