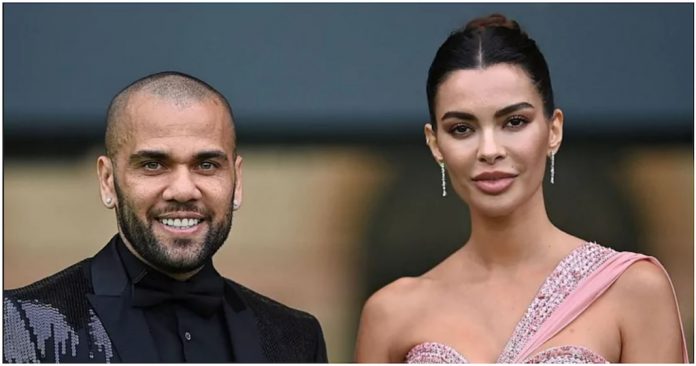 Dani Alves' wife, Joana Sanz has officially announced her separation from the legendary defender with a statement on Instagram.
Alves was arrested and detained in prison without bail, after being accused of assaulting a woman at a Barcelona nightclub last December.
The Brazilian is being held at the Brians II prison in Spain, where he reportedly even showed off his football skills to his co-inmates by playing for the prison team.
According to Daily Mail, Alves' wife, Joana has shared a handwritten letter on social media confirming their split.
READ ALSO: Barcelona adds to tally of clubs seeking Kudus switch from Ajax
She left her social media followers in no doubt she was planning to call time on her relationship with Alves with her two-page diary-style letter.
Joana Sanz's letter to Alves as noted by Spanish Publication AS, Joana wrote:
"Since I was little I have written my feelings to express myself, I suppose because I am an only child. Whatever it is, it does me good. I would love for the lines written here to be about love and happiness, but it is not the case. These have been horrible months, not the hardest of my life, because I have faced many storms, but very dark and painful. The feeling of abandonment and loneliness knocks on my door again. Thousands of unanswered 'whys'. "I chose as a life partner a person who in my eyes was perfect. He was always there when I needed him the most, he always supported me in everything, he always encouraged me to grow, always affectionate, attentive… It's so hard for me to accept that that person could break me into a thousand pieces. I think it will take me years of my life to get his way of looking at me out of my memory, that way of as if I were the most incredible thing in the world, and, yes, I am incredible," she continued. "I love him and I will always love him, whoever says that love is forgotten is deceiving themself or did not really love. But I love myself, I respect myself and I value myself much more. Forgiving relieves, so I stay with the magic and close a stage of my life that began on 05/18/15. I give thanks for the opportunities and learning that life gives me, no matter how difficult they are, here is a strong woman who is moving on to the next stage of her life."
READ ALSO: Messi deal 'would have put Barcelona at risk for 50 years'
When did Alves and Joana marry?
The Spanish model, who got married to the Barcelona legend six years ago, had already removed most photos of herself with the right-back from her Instagram account.
This comes after the Barcelona legend reportedly admitted he agreed to make love to his accuser – having initially denied he knew her. As reported by Spanish outlet Sport, the Tenerife-born model told her lawyers to file for divorce from Alves two months ago.
The reports further claimed the 29-year-old Spanish beauty was left devastated by her husband's assault charge, hence going ahead with the split.
Alves' ex-wife maintains his innocence
Meanwhile, Dani Alves' ex-wife, Dana Dinorah has maintained the Brazilian defender is innocent after he was arrested and imprisoned for indecent assault, Marca reports.
READ ALSO: Real Madrid: Ancelotti names player blocking Hazard from playing
She does not believe her former partner is capable of such an act, claiming she has known him for over 22 years and was been married to the defender for 10 years.
Dinorah also revealed that she and her family would be moving to Barcelona and planned on seeing Alves in person the moment he was released from prison.
Alves' kids abused online
Alves has been detained since January 20 on suspicion of assaulting a young woman in a Barcelona nightclub and his family is now facing backlash. Sports Brief reported on his ex-wife, Dinorah revealing their two children had been subjected to abuse on social media following the incident. Even if Alves is eventually proven innocent, he might still be in prison for two years unless his lawyer can persuade the judge to release him on bail.
Source: Sports Brief