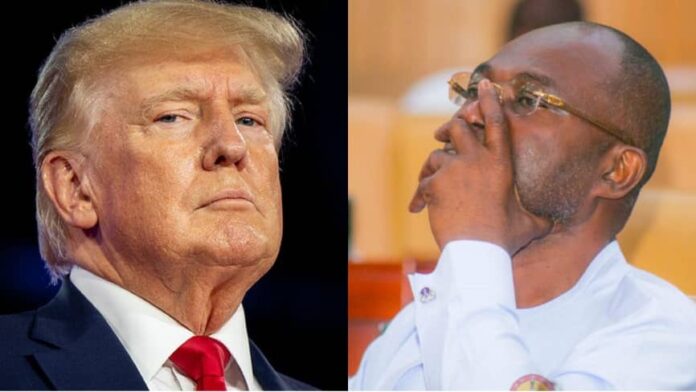 Former U.S. President Donald John Trump's likening to Ghanaian legislator, Kennedy Ohene Agyapong, has been rejected by the latter due to the "harsh policies" implemented by the 45th President of the United States.
Kennedy Agyapong, an Assin Central Member of Parliament seeking to be flagbearer for the ruling New Patriotic Party (NPP) and subsequently run for President in 2024 says he doesn't want to be equated to Mr. Trump because some of his policies were very harsh.
The MP who has described himself as "the people's man" is equated to Mr. Trump due to entrepreneurial prowess and veering into politics, coupled with his stance on issues irrespective of whom it favours.
READ ALSO: The exchange rate was ₵4.20 now it is ₵15 – Ken Agyapong shades Bawumia over empty economic theories
However, Ken Agyapong has chosen to distance himself from such comparisons.
He has been explaining that, many of the policies President Trump introduced during his tenure did not benefit many citizens, the reason he doesn't want to be associated with him.
"I call myself the people's man. When you talk about business, and you mention Donald Trump, I agree. But if you tell me, in politics, I'm like Donald Trump, I disagree. I have been in politics for about 32 years. Donald Trump was a typical businessman, and he went into politics to make a change. Some of his policies were too harsh to ordinary citizens, but when it comes to Ken Agyapong, I think about the ordinary people first and not the higher class," he said on Accra-based Citi TV.
Kennedy Agyapong also defined his political ideology which is different from that of the NPP which aligns with the Republicans in the U.S politics.
"Although the NPP aligns with the Republicans, I'm a Democrat. Democrats always make policies that take care of ordinary people. For Republicans, sometimes their decisions are very tough and do not favour the ordinary citizen. I'm not a conservative, I'm not a socialist either, I'm a liberal," he said.
Ten people are currently seeking to lead the NPP into the 2024 polls including Vice President Mahamudu Bawumia and former Trade and Industry Minister, Alan John Kwadwo Kyerematen.
READ ALSO: Call for ceasefire: Veep reconciles with Ken Agyapong on NPP flagbearership race