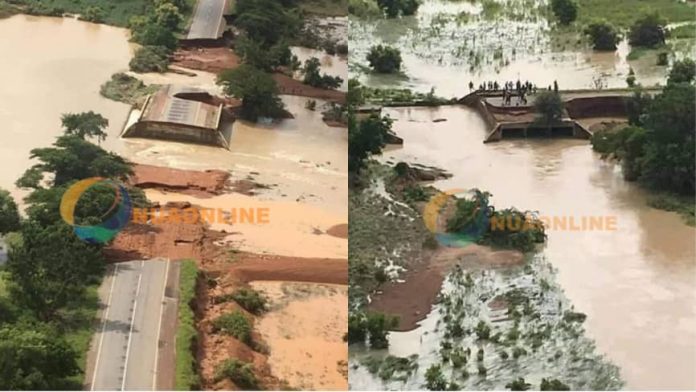 The perennial flooding in Accra has extended its boundaries this year with waters bursting banks in other regions of the country.
The infamous June 3 disaster in 2015 is at least a reference point for many Ghanaians on how citizens have been battling floods over the years since each anniversary 'celebrated' tops up the flooding woes of the country.
A drainage expert, Ing. Thomas Peprah Manu, has cautioned that the entire country may be flooding soon considering the non-implementation of the drainage master plan developed by Osagyefo Dr. Kwame Nkrumah.
During his contribution on Maakye Friday, June 24, 2022, he disclosed Dr. Nkrumah did a master plan for both sewage and drainage which couldn't be implemented after his overthrow.
Ing. Manu said other regions that have previously not been flooding are now flooding and would soon diffuse to the Municipal and District Assemblies (MDAs).
"Nkrumah did the following plans; Master plan for sewage and master plan for drainage and he was overthrown and nobody continued until 1992 when Rawlings decided to take a look at it.
"So it is our failure to follow the master plan that has ended us here. At first the other regions were not flooding. But now they are all flooding. It'll get to the districts because the MDAs have no master plan," he asserted.
The drain expert bemoaned the sale of lands by estate developers and land owners without any proper laid out drainage systems. He asked government to ensure proper drainage and sewage plans are executed before the problem gets out of hand.
"We are selling plots without any plans for drainage. The District Assemblies are to make drainage layouts part of their plans but nobody is enforcing that. We wait for people to build [in waterways] before they pull them down. We must go back to the drawing board. Everyone is doing their drain so there is no plan for the major ones. Urban roads, Highway and the others all design their drains without recourse to the others," he elaborated.
In averting the menace on the interim, Ing. Manu proposed the 'retarding tanks' approach where drains would be collected at various points and released gradually to flow after the rains to avoid flooding.
"With the Master plan, the Dutch knew the waters from Aburi were huge so they would flood the Odaw [river] if we don't retard them. We have to start designing tabs. We need to delay some of the waters [retarding tanks] so that we open the gutters after the rains so they also pass. This will not put pressure on the Odaw"
He has asked the media to infuse environmental campaigns into their programmes rather than waiting for the rains to come before talking about floods.
By:Felix Anim-Appau|Onuaonline.com|Ghana