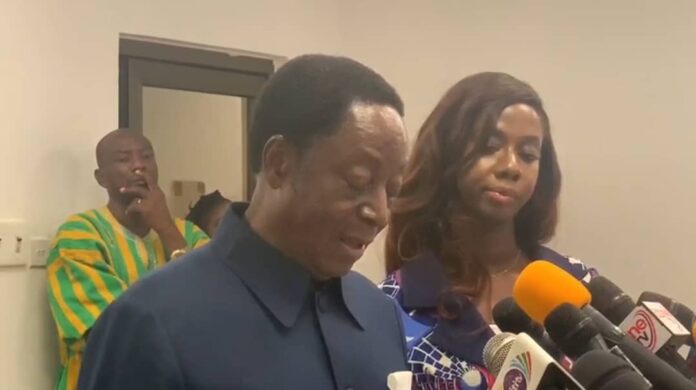 A former Governor of the Bank of Ghana, Dr. Kwabena Duffuor has rescinded his decision to contest the flagbearership of the National Democratic Congress (NDC).
According to Dr. Duffuor, the party's Council of Elders resolved to get the irregularities surrounding the process settled with representatives of each of the three presidential hopefuls.
"However, despite the assurances given to myself and my team by the Chairman of the party, the executives of the party, in a complete and unacceptable breach of faith, went ahead to convene a press conference announcing that the elections would go ahead tomorrow, without having resolved the concerns surrounding the voters register as decided at the meeting of the Council of Elders," Dr. Duffuor stated Friday, May 12, 2023.
He said partaking in the polls could be likened to drinking from a poisoned calabash since everything shows the elections will not be free and fair.
READ ALSO: Ghana's $3bn IMF bailout to be approved by May 19
"…Taking part in such would be akin to knowingly drinking from a poisoned calabash. After consulting with my support base nationwide, I have been left with no choice but to withdraw from the Presidential election as I cannot contest in an election which is blatantly fraught with irregularities regardless of all my efforts to draw attention to same," he indicated.
The former Finance Minister earlier injuncted the process and discontinued afterwards around the mid hours of Friday, May 12.
"The plaintiff avers that the partial delivery of the Photo Album to his representatives on 4th May 2023 was in itself out of time considering the magnitude of the verification exercise required of them before the internal elections of 13th May 2023," portions of the application said.
The campaign team Dr Duffuor earlier demanded postponement of the May 13 Presidential Primaries over what it describes as a flawed register.
READ ALSO: NDC Presidential Primary: Dr. Duffuor's campaign team lists reasons for demanding postponement of polls