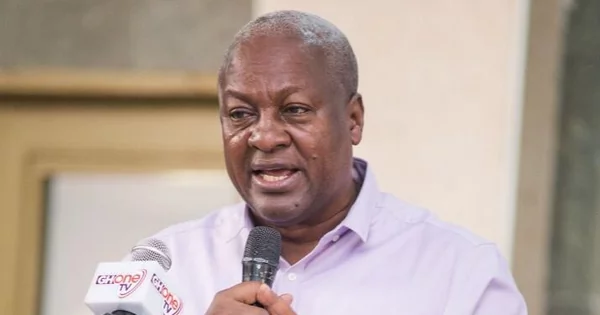 Former President and flagbearer hopeful of the National Democratic Congress, John Dramani Mahama, has expressed worry over the poor nature of food being served students in the various Senior High Schools in the country.
The unhygienic nature of the meals, he says, makes the students grow unhealthy as seen whenever they return from school.
According to him, the nature of foods served in the schools would even be rejected by some dogs in certain homes.
He lamented that the shortage of food in the Senior High Schools is making some students drop out of school.
READ ALSO: 'Crucify me if I touched Prof. Mills' tomb' – Koku Anyidoho tells family
Speaking about the challenges confronting the free senior high school policy as a result of rushing its full implementation without due diligence, the former President said the Akufo-Addo administration should have followed the path he charted.
"We knew there were going to be more students when the free SHS was fully rolled so we decided to build more schools, dormitories, classrooms, dinning halls and put other infrastructure in place to accommodate the increasing number of students in future to make them comfortable.
"But these people came and rushed everything and today, there is no food to even serve them. The food that is given them in the schools, with all apologies, even some dogs in some people's homes will reject them.
"They are so pilled up in the rooms that today when your child returns from school, you need to disenfect them thoroughly to prevent introducing bedbugs into your home," he said in Twi whilst addressing delegates and party members in the Asikuma Odoben Brakwa constituency in the Central region.
READ ALSO: LGBTQ+ advocate's call to the Bar suspended for 'lacking good character'
Mr. Mahama said he will decentralise the food being served in the Senior High Schools by giving monies to the school authorities to purchase their own foods when he comes back to power.
By Felix Anim-Appau|Onuaonline.com