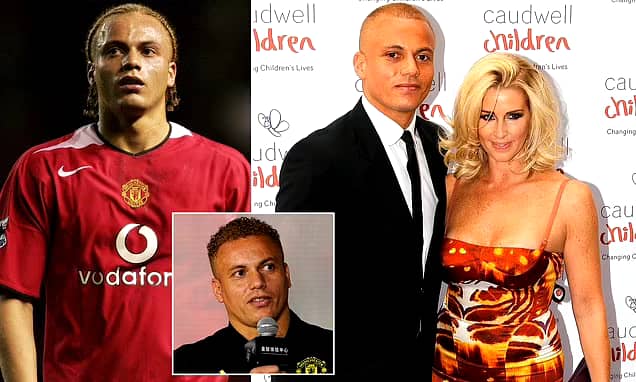 Former England and Manchester United footballer Wes Brown has been declared bankrupt at the High Court.
HMRC filed a bankruptcy petition against Brown, who reportedly earned £50,000-a-week during his playing days at Old Trafford, on February 27.
The petition was rubber-stamped at the High Court on April 12 and listed on The Gazette, the official public record.
Defender Brown, 43, was in United's first team for 15 years having come through the Old Trafford club's academy ranks.
He made 362 appearances for the club, winning five Premier League titles, two FA Cup, two League Cups and two Champions Leagues during an illustrious career.
Brown pictured with ex-wife Leanne – it was reported the couple split up last year
Brown failed to file accounts for his firm beyond April 2019, with the company repaying him a £17,000 loan.
A £4.5m home, £500k car fleet, £500k loan to pals and £2k on a JUMPSUIT: A look at footballer Wes Brown's lavish life with ex-stripper wife Leanne… before bankruptcy and marriage split
Brown was capped 23 times for England and also played for Sunderland and Blackburn Rovers after he left United in 2011.
Last year it was reported Brown split from his wife Leanne, 46, who appeared in the reality TV show Real Housewives of Cheshire. They married in 2009 and had three daughters together.
Wes reportedly moved out of the home he shared with Leanne and their children Halle, Lilia, and Lola.
A source told The Sun at the time: 'Wes and Leanne split before Christmas [2021]. There were no third parties involved; it is just a sad fact that their marriage has run its course.
'Leanne has flourished in single life and has removed her wedding ring. She has told people she feels free and is working hard on her businesses and flourishing as an independent woman.
'Wes meanwhile is carrying on as best he can. There have been rumours of trouble in their marriage for a while but they put a brave face on publicly.'
The source added the former couple are doing their best to co-parent their children and live separate lives.
In 2016, the couple slashed the asking price for their previous home, a mansion in Prestbury, Cheshire, to £2.4million after it had gone onto the market six years earlier for £4.5m.
Leanne took to Instagram to share a heartfelt post suggesting she was working on herself following their split last year
Leanne and Wes pictured with their three daughters Halle, Lilia, and Lola in 2019
Leanne said in 2019: 'Yes we've got a lovely life and all this money and I'm not saying the money isn't great but when you're in it you're living in this bubble. Although the fans can be amazing they can also be very cruel.
'It must be hard [for footballers] to deal with to be on top one minute and hated the next for a bad kick or missing the goal.
'We are the ones that are left to pick up the pieces and bear the brunt of whatever is left at the end of their careers.
'Sometimes it's hard being alone a lot. The lads are away a lot, especially if involved in a high-profile club and England international, too.'
Brown is set to line up in the Manchester Remembers charity football match for victims of the 2017 Manchester Arena bombing on May 7.
He'll play alongside former United team-mate Nicky Butt and Trevor Sinclair in the game at Oldham's Boundary Park, with boxing legend Ricky Hatton and comedian Jason Manford in the celebrities team they're facing.
Brown's revelations follow Craig Bellamy's exclusive interview with Mail Sport, in which he confirmed he had also been declared bankrupt.
Speaking last month Bellamy said: 'I have been living the last five or six years on Death Row, just waiting for someone to put me out. I have been waiting for the cell door to open and someone to say: "Today's the day".
'It's like the feeling of not being able to look forward to anything. All the money I've earned, I can't get a mortgage. Financially, I have no future. The hurt of that. I can't own anything. Everything's gone.'
Born in the Longsight area of Manchester, Brown joined United's academy at the age of 12 and signed professional terms with the club in November 1996 aged 17.
After winning the FA Youth Cup with United's reserve team, Alex Ferguson handed him his senior debut against Leeds United at the end of the 1997-98 season.
Brown enjoyed his first-team breakthrough by playing 21 times during United's historic 1998-99 campaign, when they won a historic Treble of Premier League, FA Cup and UEFA Champions League.
Despite a succession of injury setbacks and strong competition in defensive positions, Brown played regularly as United won the 2002-03 Premier League.
The former Manchester United defender enjoyed an illustrious career at Old Trafford and reportedly earned £50,000 a week.
He racked up 52 appearances in the 2007-08 season, which saw United win another league title and he delivered the cross from which Cristiano Ronaldo headed them in front against Chelsea in the Champions League final. United won on penalties.
Afflicted by more injury woes, his time at United fizzled out and Brown joined Sunderland in the summer of 2011. He played 87 times for the club over the course of five seasons before rounding off his career at Blackburn and the Indian club Kerala Blasters.
Brown made his England debut against Hungary in 1999 and made Sven-Goran Eriksson's squad for the 2002 World Cup in Japan and South Korea.
With stiff competition from Rio Ferdinand, Sol Campbell, John Terry and others, Brown was limited to 23 England appearances.
Source: Daily Mail